INSIDERS PROFESSIONAL MAIL ORDER CLIP ART HANDBOOK
---
MORE CLIP ART1 MORE ILLUSTRATIONS!
MORE BORDERS! MORE REVERSES!
MORE INFO! The Most Complete Clip-Art Manual On
The Market Today!!!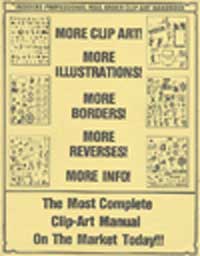 Now you can create your own professional looking artwork and typesetting layouts with "that professional look" for only a few pennies.

Insiders Publications has just released their latest hot selling publication. "Insiders Professional Mail Order Clip-Art Handbook."

This handbook contains literally thousands of dollars of clip-art and related artwork Create your own catalogs, direct mail pieces, circulars, letters, flyers, envelopes, etc. and at a fraction of the cost you would be charged by an art studio or advertising agency.

This book is especially designed and laid out for the mail order publisher, both small and large. You'll have a large selection of valuable artwork at your fingertips.

Included in the clip-art section are drawings, reverses, slogans, headlines, logos, borders, illustrations, etc. Anything and everything you'll ever need to design your own professional-looking ad.

Here's your chance to spark up your old ads and literature or create a new, striking image for your business.

If your serious about improving your business and want to save a bundle, this book is a must for you.

Also included are the basics of pasting-up materials for the less complicated advertising and promotional material. You'll also find a glossary of terms frequently used in graphic arts, plus much, much more.

You can save a tremendous amount of time and money by using this fantastic book to prepare your own circulars, sales letters, brochures, pamphlets, self-mailers, booklets, catalogs, direct mail pieces, flyers, envelopes, etc.
This amazing book contains an assortment of several hundred professional line drawings, reverses, slogans, headlines, logos, borders, illustrations, cartoons, ornaments, coupons, lettering, mailing permits, envelop teasers, and more! And it's so simple to use. Just clip and paste ... it's that easy! Every piece of art is beautifully printed in black on quality white paper on only one side of a page. This allows you to use every single piece without damaging any other art.
Also included are:
Easy-to-understand instructions on how to use clip-art and use it most effectively and cheaply.

You also learn about photo-offset printing

How The Printing Process Works

What Simple Tools Are Needed

How To Create Professional Effects

Do's And Don'ts of Preparing Copy For Your Printer

Tints & Textures

Screens & Half-Tones

Art Type And How To Use It

How To Proportionately Reduce Or Enlarge Your Copy

Also a glossary of terms frequently used in the graphics art

Plus, much more!
Remember, the repeated use of this handbook will save you a fortune and at the same time enhance your ads. The use of just one piece of clip-art may easily justify the cost of your purchase. You don't need to hire an expensive artist. You can do everything yourself, saving money and time, yet still creating a professional looking piece.
SPECIAL PRICE: SAVE 25% when you order now. This Clip-Art Handbook normally retails for US$20.00.
#1408 .............................................................................. RM57.00 (US$15)
Money problems? Love problems? Health problems? Worried, anxious or fearful of anyone or anything? All problems can be solved. Click here to go there.
---
To order by mail or fax, please copy, print, fax or mail this Order Form.
Please read the How To Order INSTRUCTIONS before ordering.
- - - - - - - - - - - - - - - - ORDER FORM - - - - - - - - - - - - - - -

Please send my copy of Insiders Professional Mail Order Clip-Art Hand-
book at once.

I have enclosed US$15 plus US$1 postage & handling.

All orders are shipped by 3rd or 4th class mail. For UPS or 1st class
mail (please specify which) include an additional US$4.00. UPS delivery
requires a street address. Canada & Mexico add US$5.00. All other countries add US$8.00 (Airmail).
#1408
[ ] I've enclosed US$_______ [ ] Check [ ] Money Order
[ ] Postal Orders [ ] Bank Draft [ ] Cash
[ ] I prefer to use my Visa or
_
NAME (as in card):
SECURITY NUMBER: (at back of
Date: ______________________________________________________
Signature: __________________________________________________

| | |
| --- | --- |
| Your Name: | __________________________________ |
| Your Address: | __________________________________ |
Mail your order today with payment to:-
EVERB

W.D.T. No. 39

Lot 20 Batu 20 Jalan Ipoh

48000 Rawang, Selangor

Malaysia.
---

"Life offers you infinite possibilities at every level of your growth. You can transform yourself in many unique ways if you have the dream and vision. What is holding you back?"
- Van Gogh
---
Copyright © 2002 - 2013 by EVERB (WHATSAPP +60178705831) Impeccable worldwide service
Contact Main Parapsikologi Click Here To Join