HOW TO COLLECT UP TO $83,501.00 WORTH OF GOVERNMENT BENEFITS
Names, addresses, and full details of over 200 U.S. government programs offering free grants, scholarships, loans, and more.
If you've ever needed help financing a small business, a new home, or a college degree, this is the book to read. It's filled with valuable financing information of government sources.
In this book you are going to find out about a multitude of U.S. Government Benefits, Services & Literature. Because the Government advertises very little (mostly restricted to the Armed Services attempts to recruit), the public is not generally aware of this windfall of information and services. Now you can read the descriptions of many of the primary and most helpful ones we could find, catalog, and present to you.
#342 ........................................................... RM30.40 (US$8.00) postpaid
---
FREE STUFF FROM UNCLE SAM

Fantastic free things just for the asking! Absolutely free and easy to get. Every year the US government hands out billions of $$$ worth of free stuff: loans, subsidies, scholarships, grants, etc. This book tells you exactly where to write or call...and how to apply - so you can get your share of all these riches.
It also tells you where to buy government surplus items (such as cars, boats, cameras, etc.) for "peanuts".
#4044 ............................................................ RM26.60 (US$7.00) postpaid
---
1001 THINGS YOU CAN GET FREE
Amazing 64 pg. book describing dozens of items, information and books that are available FREE for the asking. OVER ONE THOUSAND FREE THINGS YOU CAN SEND AWAY FOR!
This book tells you where to write. Over 1000 valuable FREE ITEMS can be yours ... simply by writing and asking. This amazing book picture and describes all the free offers and gives the address where you can write for them. It's that easy!
#1319 ............................................................ RM26.60 (US$7.00) postpaid
---
FREE THINGS FOR KIDS TO WRITE AWAY FOR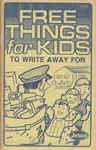 This book contains hundreds of fabulous items that kids can receive through the mail - just for the asking! Just write to the addresses shown and you will receive all kinds of amazing stuff that are free. Ask and you will get them.
The items include all kinds of Posters, samples, premiums, giveaways, stickers, maps, samples, information-packed booklets, and much more!
#4039 ........................................................... RM26.60 (US$7.00) postpaid
---
A FEW THOUSAND OF THE BEST FREE THINGS IN AMERICA
Have you gotten your share of free things? This big 8x11" book reveals thousand of free things in America and how to get how to get them. In it you'll find something for every member of the family - Mom, Dad, the Kids - even Fido.
FREE Product Samples

FREE Cookbooks and Recipe Collections

FREE Travel Guides

FREE Magazines and Newsletters

FREE Gifts and Services from Uncle Sam

FREE Fact-filled Books on hundreds of subjects

Toll-Free Help Hotlines
There's a carload of free things for you no matter what your interests - health, money, sewing, self-improvement, religion, business, gardening, cooking, do-it-yourself projects, computers, conservation, travel, sports, cars, pets - to mention just a few.

Every item was available at the time the book was written. Occasionally supplies of an item run out and the offer may be withdrawn or replaced with a new freebee. 8x11". 96 pages.
SPECIAL BONUS REPORT: How to get hundreds of dollars of free groceries.
#318 ......................................................... RM38.00 (US$10.00) postpaid

---

"You don't need an ambition to live happily. Plants and animals have no ambition and they live happily without a care in this world. You can and will live a happy life when you have no ambition."
- Van Gogh
---
Copyright © 2002 - 2013 by EVERB (WHATSAPP +60178705831) Impeccable worldwide service
Click Here To Join
•
Uncang Orang Kaya
•
SenaraiBukuMinda1
•
Senarai Buku Minda2
•
Agen_Pengedar
•
Agen_Pemasaran
•
Agen_Peniaga
•
Laman Web
Reprint Rights
• Books
• Ebooks
• Reports
• Manuals
• Tapes
• CDs.
Products
• Opportunity
•

Services
•
Unique
•

Special
•
•
•
About Us
•
Other
•
•
•
Semua Tangkal-Azimat diisikan dengan Hikmat Ayat untuk menolong menyelesaikan masalah anda. Dibuat KHAS untuk anda dengan Kuasa Minda dan ditahbiskan, diprogramkan, diuntukkan oleh Tuan Guru Mohammad Putra mengikut maklumat dalam surat/pesanan anda.
Tok adalah ahli batin yang berjaya, ahli fikir agung, pengarang beratus-ratus buku.'Walaupun masyhur, kehidupannya sentiasa sederhana seperti kanak-kanak. Sebagai seorang berwawasan, keinginannya ialah supaya kaum manusia hidup bahagia.
Untuk memesan, ikut arahan berikut:
1) sila hantar sekeping kertas/surat/borang pesanan dengan maklumat berikut:- nama anda, alamat penuh, tarikh lahir, no. telefon bimbit, hajat/tujuan anda, pekerjaan anda - untuk membolehkan Tuan Guru menyediakan hadiah Ilmu Al-Hikmah, Batu Hikmah, Pendinding Diri, Ayat Pengasih, Tangkal/Azimat/Batu/ Cincin/Loket/Rantai/ Uncang/Minyak/Ibu Duit/Ibu Dinar/Ibu Rezeki/dll - KHAS untuk anda.
2) Poskan pesanan anda dan 'Slip Bank'/'Wang Pos' (berpalang) dibuat atas nama EVERB kepada:
EVERB
W.D.T. No. 39,
Lot 20 Bt 20 Jln Ipoh,
48000 Rawang, Selangor,
Malaysia. Tel: +6017-8705831 / WHATSAPP +60178705831
Semua buku, barang dan hadiah dijamin ada.
Jangan hantar Wang Pos yang kosong.
Jangan guna pos biasa.
Hantar dengan POS EKSPRES (hanya RM2.50)