1001 THINGS YOU CAN GET FREE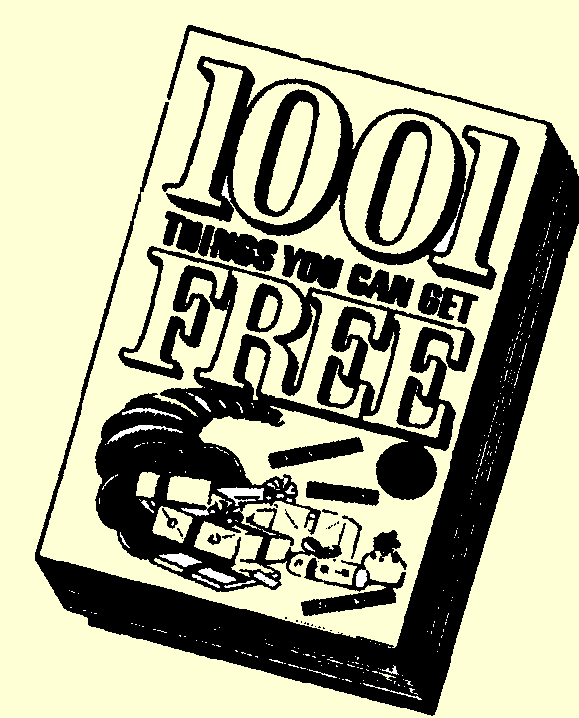 Big 64 pg. book describing dozens of items, information and books that are available FREE for the asking. OVER ONE THOUSAND FREE THINGS YOU CAN SEND AWAY FOR!
This book tells you where to write. Over 1000 valuable FREE ITEMS can be yours ... simply by writing and asking. This amazing book picture and describes all the free offers and gives the address where you can write for them. It's that easy!
FREE ITEMS INCLUDE:
#1319 ........................................................ RM26.60 (US$7.00) postpaid
---
HOW TO PROTECT YOUR HOME FROM FIRE AND BURGLARY
Don't let this happen to your home! Will these be the headlines in your local newspaper someday? Discover how to save your home from fire and burglary in this popular home security book "HOW TO PROTECT YOUR HOME FROM FIRE AND BURGLARY".
Home security analyst Louis Hobson shows you what the burglar looks for and how to protect against him. And simple techniques to prevent fire from occurring in your home are explained in everyday language.
Aren't your loved ones worth US$4.95? Act now!
#1630 ...................................................................... RM18.81 (US$4.95)
---

"Don't think the plants and animals are stupid. They are not. They have minds and can think and communicate, just like the humans. The difference is that they do them much more efficiently and effectively than the humans. After all, are they not more evolved than the humans?"
- Van Gogh
---
Copyright © 2002 - 2013 by EVERB (WHATSAPP +60178705831) Impeccable worldwide service
Click Here To Join
•
Uncang Orang Kaya
•
SenaraiBukuMinda1
•
Senarai Buku Minda2
•
Agen_Pengedar
•
Agen_Pemasaran
•
Agen_Peniaga
•
Laman Web
Reprint Rights
• Books
• Ebooks
• Reports
• Manuals
• Tapes
• CDs.
Semua Tangkal-Azimat diisikan dengan Hikmat Ayat untuk menolong menyelesaikan masalah anda. Dibuat KHAS untuk anda dengan Kuasa Minda dan ditahbiskan, diprogramkan, diuntukkan oleh Tuan Guru Mohammad Putra mengikut maklumat dalam surat/pesanan anda.
Tok adalah ahli batin yang berjaya, ahli fikir agung, pengarang beratus-ratus buku.'Walaupun masyhur, kehidupannya sentiasa sederhana seperti kanak-kanak. Sebagai seorang berwawasan, keinginannya ialah supaya kaum manusia hidup bahagia.
Untuk memesan, ikut arahan berikut:
1) sila hantar sekeping kertas/surat/borang pesanan dengan maklumat berikut:- nama anda, alamat penuh, tarikh lahir, no. telefon bimbit, hajat/tujuan anda, pekerjaan anda - untuk membolehkan Tuan Guru menyediakan hadiah Ilmu Al-Hikmah, Batu Hikmah, Pendinding Diri, Ayat Pengasih, Tangkal/Azimat/Batu/ Cincin/Loket/Rantai/ Uncang/Minyak/Ibu Duit/Ibu Dinar/Ibu Rezeki/dll - KHAS untuk anda.
2) Poskan pesanan anda dan 'Slip Bank'/'Wang Pos' (berpalang) dibuat atas nama EVERB kepada:
EVERB
W.D.T. No. 39,
Lot 20 Bt 20 Jln Ipoh,
48000 Rawang, Selangor,
Malaysia. Tel: +6017-8705831 / WHATSAPP +60178705831
Semua buku, barang dan hadiah dijamin ada.
Jangan hantar Wang Pos yang kosong.
Jangan guna pos biasa.
Hantar dengan POS EKSPRES (hanya RM2.50)