<![if !vml]>
<![endif]>
<![if !vml]>

<![endif]>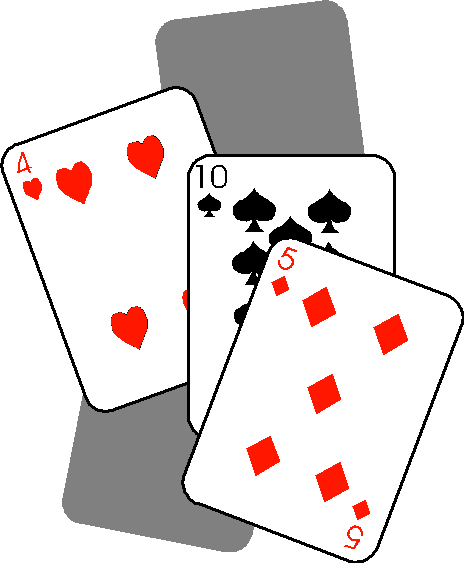 A book showing the theories , tips, techniques, strategies and winning systems for playing Blackjack (21), Roulette, and Craps in the casinos. Learn and apply them and improve your winnings.
WINNING AT BLACKJACK (21)
Anyone willing to learn the right rules and stick to them can beat "21." These rules not only include proper strategies, but also personal discipline, proper
capitalization and money management. Card Counting is also a tremendous help and should be used wherever possible.

Each time a deck of cards is shuffled, it is true that the way they fall is unpredictable at first. However, do not make the mistake of thinking card
games depend on luck. The dealer will get his share of luck and so will the player. The hunch and luck element can be ignored. Base your play on the long
average and learn to out-wait the downbeats.

An understanding of percentage is an absolute necessity to winning. Not only must the player know good and bad percentages, he must respect the
deadliness of making bad percentage plays and avoid them like poison.

WINNING AT ROULETTE

To Americans, Dice may be the King of gambling games. To the fair sex and to system players of the rest of the world. Roulette is the Queen. This game has a dignity and studious atmosphere that differs from other casino games. Roulette players appreciate a chance to sit down away from the excited cries and shouts of other participants and the constant spieling of the dealers. The roulette player is not concerned with the necessity of counting or constant decisions as in a card game, nor does he have to concern himself with a so-called "hot shooter."
The true roulette player plays his game far better and lasts longer than speculators at other games. In short, Roulette is a GOOD GAME and this book will try to show you how to be victorious at it.

Many players have found their money goes down fast at "21" and have turned
to Dice or Roulette. The properly equipped and informed player can win at the basic good casino games, and we repeat, Roulette is a good game.
WINNING AT CRAPS

The Great American Game for some people may be baseball. To gamblers it is Dice. This game is played quite a bit privately, in floating crap games, and in illegal places. Our book concerns Casino Dice, also called Bank Craps. This legal Nevada style game has the lowest negative percentage and offers the good speculator his best chance to win. We won't say it offers the foolish gambler a good chance because the way most people play it, it is a good game only for the house. After reading this book you should no longer be a foolish player. We think you can be a real winner and enjoy your fun trips to Nevada.
There are people at a dice table who seem to think anybody who bets big money must know what he is doing. This is pretty foolish. Some men come to the table with a lot more money than other men. The size of a man's bet and even the size of his winnings do not indicate good players or bad. It merely shows that the dice game attracts big money as well as little money.
Order for this exciting book today!
407"
#4122 ............................................................ RM49.40 (US$13.00) postpaid
---
To order by mail or fax, please copy, print, fax or mail this Order Form.
Please read the How To Order INSTRUCTIONS before ordering. Orders to all countries are shipped by regular surface mail. Before ordering, please send an email to "e.verb@yahoo.com" or telephone (Malaysia) 017-5231484 or SMS to (Malaysia) 017-5231484 to confirm prices, shipping, delivery, bonuses, payment and availability. Thank you.
- - - - - - - - - - - - - - - - ORDER FORM - - - - - - - - - - - - - - -
[ ] Please send me "SUCCESSFUL CASINO SYSTEMS." I am enclosing RM49.40 (US$13.00) postpaid.
Orders for books and similarly heavy items to all countries are shipped by 3rd or 4th class surface mail. Lighter items such as CDs and DVDs are sent by Air Mail. In some cases, shipping may be higher due to the heavier weight of the books or items. In case of doubt, please write, phone, or e-mail to us. NOTE: Any overpayment in shipping is refunded, cheerfully, as a matter of routine.
INTERNATIONAL AIR MAIL: If you want delivery by fast priority international Air Mail, please enclose additional payment. (1) For Air Mail to Asia-Pacific countries, please add at least US$7.00 for Air Mail. (2) For Air Mail to Europe, Middle East and Russia, please add at least US$8.00 for Air Mail. (3) For Air Mail to North America, Central, and South America, Africa, add at least US$9.00 for Air Mail. In some cases, the Air Mail charges may be higher than the ones sated here due to the heavier weight of the items, postal surcharges.
INTERNATIONAL COURIER: If you want delivery by Poslaju International Courier, (or Skynet, UPS, FedEx or international air courier), please note that the charges may cost much more than those for Air Mail. Typically, for a 500gm package (documents/printed matter only) the charges are as follows: West Malaysia (RM6); Sarawak (RM8); Sabah (RM9); Singapore (RM50); Brunei (RM50), Indonesia (RM55), Thailand (US$16), Argentina (US$45), Brazil US$45), Sweden (US$46); Australia (US$26), New Zealand (US$26), Bangladesh (US$25), China (US$30), India (US$26), Japan (US$26), Pakistan (US$26), Philippines (US$22), South Korea (US$24); Austria (US$32), Belgium (US$32), Iceland (US$39), Ireland (US$32), Switzerland (US$31), Tunisia (US$33), United Kingdom (US$32), Venezuela (US$35); Bahrain (US$26), Jordan (US$26); Cambodia (US$20), Lao (US$20), Vietnam (US$20); Canada (US$35), France (US$32), Kuwait (US$26), Saudi Arabia (US$28), Norway (US$35), Russia (US$35); Denmark (US$32), Greece (US$32), Kenya (US$32); Egypt (US$31), Iran (US$37), Luxembourg (US$44), Maldives (US$25), Papua New Guinea (US$24), Portugal (US$32), Qatar (US$26), Sri Lanka (US$27), United Arab Emirates (US$28); Finland (US$32), Italy (US$32), Nigeria (US$42), Netherlands (US$35), Spain (US$37); Germany (US$32); Hong Kong (US$22), Macau (US$22), Taiwan (US$24); Turkey (US$25), United States of America (US$32); Rest of the world (US$54)
#4122
| | |
| --- | --- |
| Your Name: | __________________________________ |
| Your Address: | __________________________________ |
Mail your order to:-
EVERB

W.D.T. No. 39

Lot 20 Batu 20 Jalan Ipoh

48000 Rawang, Selangor

Malaysia.
---
More Gambling and Lottery Books:
---

"However, wealth brings with it more problems than solutions. Research has shown that the rich are among the unhappiest people. Money can buy you houses, cars, presents and other material things but it cannot buy the really precious ones."
- Van Gogh
---
---
Copyright © 2002 - 2013 by EVERB Impeccable worldwide service
Click Here To Join
•
Uncang Orang Kaya
•
SenaraiBukuMinda1
•
Senarai Buku Minda2
•
Agen_Pengedar
•
Agen_Pemasaran
•
Agen_Peniaga
•
Laman Web
Reprint Rights
• Books
• Ebooks
• Reports
• Manuals
• Tapes
• CDs.
Products
• Opportunity
•

Services
•
Unique
•

Special
•
•
•
About Us
•
Other
•
•
•
Semua Tangkal-Azimat diisikan dengan Hikmat Ayat untuk menolong menyelesaikan masalah anda. Dibuat KHAS untuk anda dengan Kuasa Minda dan ditahbiskan, diprogramkan, diuntukkan oleh Tuan Guru Mohammad Putra mengikut maklumat dalam surat/pesanan anda.
Tok adalah ahli batin yang berjaya, ahli fikir agung, pengarang beratus-ratus buku.'Walaupun masyhur, kehidupannya sentiasa sederhana seperti kanak-kanak. Sebagai seorang berwawasan, keinginannya ialah supaya kaum manusia hidup bahagia.
Untuk memesan, ikut arahan berikut:
1) sila hantar sekeping kertas/surat/borang pesanan dengan maklumat berikut:- nama anda, alamat penuh, tarikh lahir, no. telefon bimbit, hajat/tujuan anda, pekerjaan anda - untuk membolehkan Tuan Guru menyediakan hadiah Ilmu Al-Hikmah, Batu Hikmah, Pendinding Diri, Ayat Pengasih, Tangkal/Azimat/Batu/ Cincin/Loket/Rantai/ Uncang/Minyak/Ibu Duit/Ibu Dinar/Ibu Rezeki/dll - KHAS untuk anda.
2) Poskan pesanan anda dan 'Slip Bank'/'Wang Pos' (berpalang) dibuat atas nama EVERB kepada:
EVERB
W.D.T. No. 39,
Lot 20 Bt 20 Jln Ipoh,
48000 Rawang, Selangor,
Malaysia.
Semua buku, barang dan hadiah dijamin ada.
Jangan hantar Wang Pos yang kosong.
Jangan guna pos biasa.
Hantar dengan POS EKSPRES (hanya RM2.50)