THE BEVERLY HILLBILLIES DIET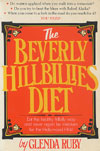 By Glenda Ruby. Do waiters applaud when you walk into a restaurant? Do you try to beat the blues with Baked Alaska? When you come to a fork in the rod, do you reach for it? You need to eat the healthy hillbilly way and never be mistaken for the Hollywood Hills!
Once you learn to eat the healthy hillbilly way, you can enjoy a night at the opera or a day at the races without worrying about what to eat. The exclusive regimen of healthy hillbillies from California to New York is at your fingertips in this book.
One of the funniest cookbooks with delicious recipes!
395"
#4139 ..................................................... RM38.00 (US$10.00) postpaid
---
THE MEATLESS MEAL GUIDE

By Dr. Jim and Tomi Ryan. A guidebook for budget-minded, health conscious cooks. A superb cookbook.

The recipes are fabulous, original, easy, delicious and healthy.

The Meatless Meal Guide... for Budget-minded, Health Conscious Cooks. Over 200 Recipes. Important Nutritional Guidelines Plus Money Saving Suggestions.

In an effort to help the homemaker come to grips with the soaring food prices, and the nutritional crises, the authors have put together this collection of meatless recipes. The recipes are from a file of recipes they have been developing for over ten years in an effort to improve and maintain their own good health. Because of the urgency of the present situation, they have decided to share them with you.

Meatless meals are not only economical, but fun, flavorful and highly nutritious.

397"

#6053 .................................................... RM38.00 (US$10.00) postpaid
---
MIND OVER PLATTER
The secret of sticking to your diet is revealed. Here, at last, is the key to following your reducing diet. Enables you to maintain your ideal weight. A famous medical doctor shows you how he successfully treated 2,000 overweight people. If you have tried to reduce weight and failed, read this book. By Peter Lindner, M.D.

Dr. Lindner, in this book, presents a program that realistically avoids the use of will power in attaining an ideal weight and maintaining it. Having treated 2,000 patients for weight problems, he is aware that the imagination is a far more potent factor in treating obesity than will power.

His program is made even easier to follow by the use of self-hypnosis which by-passes the critical nature of the conscious mind and utilizes the automaticity of the subconscious mind to make dieting a pleasant as well as rewarding experience.

4281"

#6077 .................................................... RM38.00 (US$10.00) postpaid
---
NEW CARBOHYDRATE DIET COUNTER
By Patti Lopez - Pereira. Enjoy life. Lose weight without giving up many favorite foods or drink.

By word of mouth alone, from one successful dieter to another, the low carbohydrate diet has spread quickly. The results have been amazing.

429"

#6079 ..................................................... RM34.20 (US$9.00) postpaid
---
DR. LINDNER'S POINT SYSTEM FOOD PROGRAM
... and Relative Value Food Unit Schedule. By Daisy and Peter G. Lindner. This food program (not a diet) is tailor-made to suit the individual psychologically, socially and taste-wise. It works for everyone.

The system has been used by innumerable people, and from a practical standpoint, has stood the test of time and actual use.

217"

#6074 ....................................................... RM38.00 (US$10.00) postpaid
---
30 DAYS TO BEAUTIFUL LEGS

If you want your legs to look beautiful and be noticed, this book gives you a unique practical solution. This is a no nonsense approach, using a fun and easy program that carefully guides you to the goal of beautiful legs. By Dr. Marc Selner.

Ladies. What do you think first catches a guy's attention? Shapely, attractive legs. So get ready, ladies. This book really shows you exactly how to slim down those ankles, round out those calves, and trim your thighs so YOU can get that desired appearance of looking great. You'll also feel great because as you progress, your muscles will firm up and strengthen, the swelling and tiredness you once felt will be replaced by a feeling of energy and well being.

This program has been tested on many women with fabulous results. Dr. Selner's methods are simple and easy to do. He has been involved in sports medicine and exercise physiology for over 10 years. By following his methods, not only will you get great results, you will also avoid needless expenditures of time and energy. This program involves gentle and effective methods to get those fabulous results.

4301"

#6082 ..................................................... RM38.00 (US$10.00) postpaid
---

"Other than the basic human needs, everything else may be considered unnecessary. To suffer from infinite needs is a big burden that weighs down your progress. Anyone who is motivated by greed must hurt innocent people to succeed. Anyone who wants to become rich, famous or powerful must step on the heads of others to reach the top."
- Van Gogh
---
Copyright © 2002 - 2013 by EVERB (WHATSAPP +60178705831) Impeccable worldwide service
Click Here To Join
•
Uncang Orang Kaya
•
SenaraiBukuMinda1
•
Senarai Buku Minda2
•
Agen_Pengedar
•
Agen_Pemasaran
•
Agen_Peniaga
•
Laman Web
Reprint Rights
• Books
• Ebooks
• Reports
• Manuals
• Tapes
• CDs.
Products
• Opportunity
•

Services
•
Unique
•

Special
•
•
•
About Us
•
Other
•
•
•
Semua Tangkal-Azimat diisikan dengan Hikmat Ayat untuk menolong menyelesaikan masalah anda. Dibuat KHAS untuk anda dengan Kuasa Minda dan ditahbiskan, diprogramkan, diuntukkan oleh Tuan Guru Mohammad Putra mengikut maklumat dalam surat/pesanan anda.
Tok adalah ahli batin yang berjaya, ahli fikir agung, pengarang beratus-ratus buku.'Walaupun masyhur, kehidupannya sentiasa sederhana seperti kanak-kanak. Sebagai seorang berwawasan, keinginannya ialah supaya kaum manusia hidup bahagia.
Untuk memesan, ikut arahan berikut:
1) sila hantar sekeping kertas/surat/borang pesanan dengan maklumat berikut:- nama anda, alamat penuh, tarikh lahir, no. telefon bimbit, hajat/tujuan anda, pekerjaan anda - untuk membolehkan Tuan Guru menyediakan hadiah Ilmu Al-Hikmah, Batu Hikmah, Pendinding Diri, Ayat Pengasih, Tangkal/Azimat/Batu/ Cincin/Loket/Rantai/ Uncang/Minyak/Ibu Duit/Ibu Dinar/Ibu Rezeki/dll - KHAS untuk anda.
2) Poskan pesanan anda dan 'Slip Bank'/'Wang Pos' (berpalang) dibuat atas nama EVERB kepada:
EVERB
W.D.T. No. 39,
Lot 20 Bt 20 Jln Ipoh,
48000 Rawang, Selangor,
Malaysia.
Semua buku, barang dan hadiah dijamin ada.
Jangan hantar Wang Pos yang kosong.
Jangan guna pos biasa.
Hantar dengan POS EKSPRES (hanya RM2.50)