WILL YOU BE NEXT?
COULD YOU BE NEXT TO CONTRACT THE DREAD DISEASE
AIDS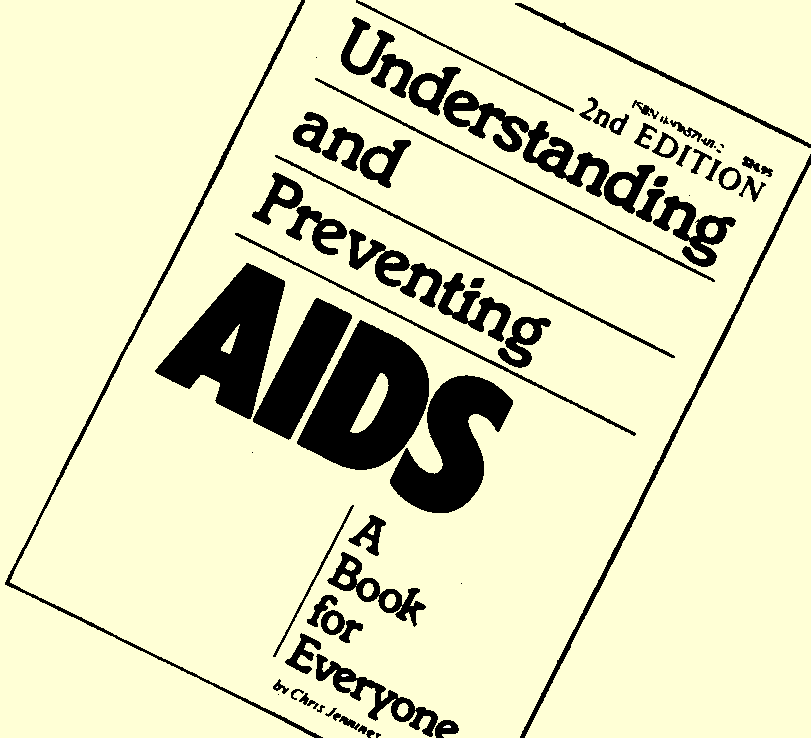 Learn the true facts about this killer disease and how you can protect yourself and your loved ones from AIDS.

Never has it been more important for people to be aware of a killer disease than now, as the potentially worst epidemic in the history of the world is running rampant through our society.

Every adult in America should read this important book, for It is only increased awareness and understanding of AIDS that will enable us to stow its progress until science discovers a cure or vaccine. Parents should read the book prior to explaining AIDS to their children. Mature singles and particularly the high-risk homosexual community should
study this book at their earliest opportunity.

In his latest book, author Chris Jennings, noted biologist and educator, explains in easy-to-understand language all the in's and out's of this dread disease AIDS. His book discusses frankly the origins, current status and future potential for this most fearful illness.

Jennings examines all aspects of the disease, from how one becomes infected to living with the disease to dying with it. Listed here is the book's Table of Contents. A quick review will instantly demonstrate the comprehensive nature of this work.
TABLE OF CONTENTS
Disease, Culture and Behavior • A Virus—The Invader • Humans—The Host • Characteristics of HIV Infections (AIDS) • Catching AIDS • Detecting AIDS • Treating AIDS • The Psychosocial Aspects of AIDS • Death with Dignity • Preventing AIDS • The Hope for a Vaccine • Characteristics of the AIDS Epidemic • The Question of Origin • AIDS Education • AIDS in the Workplace • AIDS in Prisons • AIDS in Schools • AIDS and the Law • The Challenge for Medical Professionals • Volunteering
THE AUTHOR:
The Author, Chris Jennings, is a Harvard-educated biologist, writer, and educator. He has written and edited socially-sensitive scientific material for a nationally recognized textbook publisher and for the Environmental Protection Agency (EPA), among others.

THE BOOK:
210 pages, 7 X 10 in size. Perfect bound paperback with laminated color cover. Charts and illustrations throughout. Fully indexed. Author Chris Jennings. Publisher Health Alert Press. ISBN: #2-936571-02-2. Published 1988. Price US$14.95. Order #4035.


HERE'S WHAT REVIEWERS SAID ABOUT THE FIRST EDITION

"Most pertinent, Jennings sets down the precautions that everyone should take against risking exposure to AIDS. Besides being informative, the book makes interesting reading; it manages to channel the medical and social factors in a useful way, which is welcome
at a time when the press gives so much sensational attention to this subject."
- THE BOSTON GLOBE MAGAZINE -
"Understanding and Preventing AIDS, A Book for Everyone... succeeds
in its stated goal of not resorting to sensationalism. Concise and compact, this brief volume covers all the bases, with straightforward discussions of transmission, risk reduction, medical treatments and basic epidemiology ....This book serves as a good primer for readers who have difficulty keeping abreast of AIDS developments.''
- THE ADVOCATE -
"Physicians may find the book useful in expanding their own knowledge of AIDS and may wish to recommend or give the book to concerned patients."
- MASSACHUSETTS MEDICINE -
" . .provides accurate, up-to-date information in an easy-to-digest, non-sensationalistic manner.... researched and authored by Harvard-educated biologist and medical writer Chris Jennings, offers succinct chapters addressing everything from the history of sexually
transmitted disease to tips on societal prevention...
"Jennings dispenses with confusing medical jargon in his description of how AIDS works.... Terms used to illustrate the host/invader relationship are picturesque without being distractingly so....
"Easy-to-consult charts list diseases common to AIDS, first- and second-stage AIDS symptoms, and descriptions of high-risk groups. As for the rampant and widespread fears about catching AIDS, the book concisely addresses the known methods of transmission. . .and the unknown areas..."
- HOSPITAL PURCHASING NEWS -
"Jennings has performed a minor miracle in presenting this complex subject in terms that are useful to medical professionals as well as easily understood by the general public."
- MAJOR BOOK PUBLISHER -
The first edition was selected for in-house education and reference use by:
U.S. Department of Health and Human Services

Massachusetts General Hospital

Los Angeles County - U. S. C. Medical Center

Walter Reed Army Medical Institute

Florida Dept. of Health

Boston AIDS Action Committee
NO RISK GUARANTEE

Order this dynamic book today entirely at our risk. Keep it for thirty days. If, at the end of that time, you are not completely satisfied for any reason, simply return it to us for a full refund of the purchase price.

Chris Jennings, noted biologist and educator, explains all the ins and outs of this dreaded disease, AIDS. The origins, current status, and future potential for this most fearful illness are all discussed clearly and frankly. Reveals all aspects of the disease, how infected, to living with the disease, to dying with it.

#4035 ................................................... RM113.81 (US$29.95) postpaid

436"
---
To order by mail or fax, please copy, print, fax or mail this Order Form.
Please read the How To Order INSTRUCTIONS before ordering. Orders to all countries are shipped by regular surface mail. Before ordering, please send an email to "e.verb@yahoo.com" or telephone (Malaysia) 017-5231484 / WHATSAPP +60178705831 //or SMS to (Malaysia) 017-5231484 / WHATSAPP +60178705831 //to confirm prices, shipping, delivery, bonuses, payment and availability. Thank you.
- - - - - - - - - - - - - - - - ORDER FORM - - - - - - - - - - - - - - -
Yes! Send me the 2nd edition of UNDERSTANDING AND PREVENTING AIDS: A BOOK FOR EVERYONE. Enclosed is my payment for RM113.81 (US$29.95) postpaid.
#4035
| | |
| --- | --- |
| Your Name: | __________________________________ |
| Your Address: | __________________________________ |
Mail your order to:-
EVERB

W.D.T. No. 39

Lot 20 Batu 20 Jalan Ipoh

48000 Rawang, Selangor

Malaysia.
---

"Your subconscious mind is your greatest force for your success or your failure. It all depends on how you tap its powers. You are the one who finally decides what thoughts to think, what feelings to express, what actions to take. No one, including God, can do these for you."
- Van Gogh
---
Copyright © 2002 - 2013 by EVERB (WHATSAPP +60178705831) Impeccable worldwide service
Click Here To Join
•
Uncang Orang Kaya
•
SenaraiBukuMinda1
•
Senarai Buku Minda2
•
Agen_Pengedar
•
Agen_Pemasaran
•
Agen_Peniaga
•
Laman Web
Reprint Rights
• Books
• Ebooks
• Reports
• Manuals
• Tapes
• CDs.
Products
• Opportunity
•

Services
•
Unique
•

Special
•
•
•
About Us
•
Other
•
•
•
Semua Tangkal-Azimat diisikan dengan Hikmat Ayat untuk menolong menyelesaikan masalah anda. Dibuat KHAS untuk anda dengan Kuasa Minda dan ditahbiskan, diprogramkan, diuntukkan oleh Tuan Guru Mohammad Putra mengikut maklumat dalam surat/pesanan anda.
Tok adalah ahli batin yang berjaya, ahli fikir agung, pengarang beratus-ratus buku.'Walaupun masyhur, kehidupannya sentiasa sederhana seperti kanak-kanak. Sebagai seorang berwawasan, keinginannya ialah supaya kaum manusia hidup bahagia.
Untuk memesan, ikut arahan berikut:
1) sila hantar sekeping kertas/surat/borang pesanan dengan maklumat berikut:- nama anda, alamat penuh, tarikh lahir, no. telefon bimbit, hajat/tujuan anda, pekerjaan anda - untuk membolehkan Tuan Guru menyediakan hadiah Ilmu Al-Hikmah, Batu Hikmah, Pendinding Diri, Ayat Pengasih, Tangkal/Azimat/Batu/ Cincin/Loket/Rantai/ Uncang/Minyak/Ibu Duit/Ibu Dinar/Ibu Rezeki/dll - KHAS untuk anda.
2) Poskan pesanan anda dan 'Slip Bank'/'Wang Pos' (berpalang) dibuat atas nama EVERB kepada:
EVERB
W.D.T. No. 39,
Lot 20 Bt 20 Jln Ipoh,
48000 Rawang, Selangor,
Malaysia.
Semua buku, barang dan hadiah dijamin ada.
Jangan hantar Wang Pos yang kosong.
Jangan guna pos biasa.
Hantar dengan POS EKSPRES (hanya RM2.50)