HOW TO WRITE A HIT SONG . . . AND SELL IT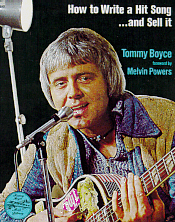 By Tommy Boyce, one of America's leading song-writers. Comprehensive, helpful and enlightening to you in your songwriting endeavor as it has been for others.

In this how-to book for the beginner or the up-and-coming songwriter, he reveals professional song-writing tips and charts a course of instruction for you to follow. He tells you how he wrote six of his biggest hits and has even included the music and lyrics for you to study, sing, and play. This fabulous book, which includes many personal photos of celebrities plus royalty statements from around the world, tells it all. A great learning experience for the music lover.

457"

#6092 ........................................................ RM57.00 (US$15.00) postpaid
---
SONGWRITERS' RHYMING DICTIONARY

The complete, inclusive, and the most usable, of modern rhyming dictionaries. Thesaurus-like arrangement. This book contains thousands of rhymes which will be of tremendous help in your lyric writing. With it you can easily rhyme any word.

Packed with very numerous slang and colloquial, and foreign-language expressions. For the poet or songwriter. By Jane S. Whitfield.

This rhyming dictionary is organized on the modern principle of giving the lists of rhymes according to the key vowel sound, and progresses from A- (ay, bay, etc.) through UZ'i-ness- (fuzziness, etc.)

This book is an essential reference for anyone writing poetry or songs.

181"

#6032 ....................................................... RM57.00 (US$15.00)
---
THE OLDIES SONG BOOK
A huge collection of old hit songs from the fifties to the eighties. Hundreds of songs with complete guitar chords, illustrations, pictures, and much, much more. Loads of fun to sing and play.
A must-have book for the singer, music lover, guitar beginner, and professional player.
463"
#8002 ..................................................... RM114.00 (US$30.00) postpaid
---
EVERGREEN SONG BOOK
Hundreds of hit songs from the fifties, sixties, seventies and nineties with complete guitar chords, illustrations, pictures, and more.
A must-have book for the music lover and guitar player.
464"
#8003 .................................................. RM114.00 (US$30.00) postpaid
---
TOP OF THE POPS SONG BOOK
Hundreds of hit pop, rock, country and other songs from the sixties, seventies, eighties, nineties, and today. Included are the lyrics with guitar chords, tips, techniques, and much more. One of the biggest and best collection of songs from around the world.
465"
#8004 ..................................................... RM114.00 (US$30.00) postpaid
---

"Some people seek absolute power. Others are so obsessed with absolute happiness, wealth, comfort, and so on. No one is absolutely sure about anything but when bad things happen they are absolutely sure it is the work of the Devil or God. When good things happen, they are absolutely sure that they are the ones who cause them."
- Van Gogh
---
Copyright © 2002 - 2013 by EVERB (WHATSAPP +60178705831) Impeccable worldwide service
Click Here To Join
•
Uncang Orang Kaya
•
SenaraiBukuMinda1
•
Senarai Buku Minda2
•
Agen_Pengedar
•
Agen_Pemasaran
•
Agen_Peniaga
•
Laman Web
Reprint Rights
• Books
• Ebooks
• Reports
• Manuals
• Tapes
• CDs.
Semua Tangkal-Azimat diisikan dengan Hikmat Ayat untuk menolong menyelesaikan masalah anda. Dibuat KHAS untuk anda dengan Kuasa Minda dan ditahbiskan, diprogramkan, diuntukkan oleh Tuan Guru Mohammad Putra mengikut maklumat dalam surat/pesanan anda.
Tok adalah ahli batin yang berjaya, ahli fikir agung, pengarang beratus-ratus buku.'Walaupun masyhur, kehidupannya sentiasa sederhana seperti kanak-kanak. Sebagai seorang berwawasan, keinginannya ialah supaya kaum manusia hidup bahagia.
Untuk memesan, ikut arahan berikut:
1) sila hantar sekeping kertas/surat/borang pesanan dengan maklumat berikut:- nama anda, alamat penuh, tarikh lahir, no. telefon bimbit, hajat/tujuan anda, pekerjaan anda - untuk membolehkan Tuan Guru menyediakan hadiah Ilmu Al-Hikmah, Batu Hikmah, Pendinding Diri, Ayat Pengasih, Tangkal/Azimat/Batu/ Cincin/Loket/Rantai/ Uncang/Minyak/Ibu Duit/Ibu Dinar/Ibu Rezeki/dll - KHAS untuk anda.
2) Poskan pesanan anda dan 'Slip Bank'/'Wang Pos' (berpalang) dibuat atas nama EVERB kepada:
EVERB
W.D.T. No. 39,
Lot 20 Bt 20 Jln Ipoh,
48000 Rawang, Selangor,
Malaysia. Tel: +6017-8705831 / WHATSAPP +60178705831
Semua buku, barang dan hadiah dijamin ada.
Jangan hantar Wang Pos yang kosong.
Jangan guna pos biasa.
Hantar dengan POS EKSPRES (hanya RM2.50)
Accept Credit