THE COMPLETE ALIBI HANDBOOK
A hilarious collection of alibis and lies which serve as a valuable guide for those who need a "good story" to get out of a jam, and entertaining reading for those who don't. By Mort Weisinger and Arthur Henley. Hardcover, 286 pgs.
The Complete Alibi Handbook is a guide to side-stepping, parrying, and avoiding the truth, even in situations where the speaker appears to have been caught red-handed. This book covers almost every situation the average man might face during his lifetime. How to explain the lipstick on your collar when you were spending the evening with the boys around a card table . . . what to say when an important client finds you at
the races when urgent personal business made you cancel your appointment with him . . . what happens when your wife is told by a lingerie clerk that her husband was in the other day with an attractive redhead — these are only a few of the situations for which the authors have produced valid and acceptable alibis.
#710..................................................... RM41.61 (US$10.95) postpaid
---
HOW TO FLATTEN YOUR TUSH
Whether you call it a tush, a derriere, a fanny or a rear end, Coach Marge Reardon wants to make yours a joy to behold. This spoof on exercise and diet books has witty asides and illustrated exercises. A gag gift to get a million laughs on this funny yet practical how-to-do-it fitness book.
Since she first wrote this book, the spreading interest in a flat tush has been a source of revelation and dollars to the author. She has received letters and phone calls from people who have finally discovered their own tushies.

When she first started to flatten her tush, she was discouraged. She had to discipline myself to an exercise program that required many
different movements. She had to get in touch with her tush from
the moment she awoke each morning to the end of each day. She
had to run, jog, walk with her tush behind her. She had to adhere to
the strict Tush Diet. Often, the exercise program was boring and
unsatisfactory. She was ready to give up on her tush. But she didn't and before she knew it, everything worked just as she wanted it to be.
ABOUT THE AUTHOR
Coach Marge Reardon is a former army sergeant, and physical
education instructor in the Des Moines, Iowa alternate schools. The overwhelming response to Ms. Reardon's program led to
an appearance on the Johnny Carson Show and national celebrity
status. Tush Training Centers are now opening in Los Angeles and
Kerhonksen, New York. HOW TO FLATTEN YOUR TUSH has
been translated into five languages to date and will soon be a
major motion picture.
#6107................................................... RM30.40 (US$8.00) postpaid
---
HOW TO MAKE LOVE TO YOURSELF

You've heard of how to make love to a man, to a woman, and to each other. Now at last - the ultimate experience! Learn how to get excited about yourself and satisfy yourself. Highly humorous! #6108................................................... RM57.00 (US$15.00) postpaid
---
CELEBRITY GOSSIP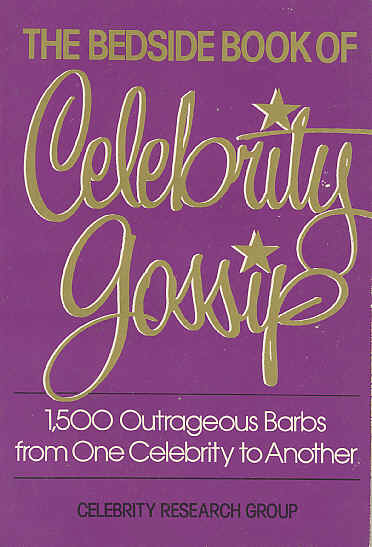 An audacious collection of outrageous cracks to make you crack up. Read what famous people gossip about other famous people. Appeal to everyone's baser instincts when one famous person castigates another with really dirty digs - either subtle or right on the nose! 1500 hilarious barbs.

#4145...................................

................ RM34.01 (US$8.95) postpaid
---
"It is best to base your work on your talent. Doing the one thing that you can do better than someone else is a sure-fire way to become the best that you can be. It is a proven recipe for success.
"If you do the work that you don't like or you lack the aptitude for, it will be a costly experience for you. If is easy to get hurt and fail badly when you go against your natural inclination, when you do not follow your dream, when you are ambitious.
"To know what your talent is, start with your abilities. Develop your #1 ability to a high level until it becomes a skill. Continue to develop your skill to a higher level. It will become your talent in time.
"If you are hoping to know your talent at birth, forget it. It is very rare for a person to be born a genius."
- Van Gogh
---
---
Copyright © 2002 - 2013 by EVERB (WHATSAPP +60178705831) Impeccable worldwide service
Click Here To Join
•
Uncang Orang Kaya
•
SenaraiBukuMinda1
•
Senarai Buku Minda2
•
Agen_Pengedar
•
Agen_Pemasaran
•
Agen_Peniaga
•
Laman Web
Reprint Rights
• Books
• Ebooks
• Reports
• Manuals
• Tapes
• CDs.
Semua Tangkal-Azimat diisikan dengan Hikmat Ayat untuk menolong menyelesaikan masalah anda. Dibuat KHAS untuk anda dengan Kuasa Minda dan ditahbiskan, diprogramkan, diuntukkan oleh Tuan Guru Mohammad Putra mengikut maklumat dalam surat/pesanan anda.
Tok adalah ahli batin yang berjaya, ahli fikir agung, pengarang beratus-ratus buku.'Walaupun masyhur, kehidupannya sentiasa sederhana seperti kanak-kanak. Sebagai seorang berwawasan, keinginannya ialah supaya kaum manusia hidup bahagia.
Untuk memesan, ikut arahan berikut:
1) sila hantar sekeping kertas/surat/borang pesanan dengan maklumat berikut:- nama anda, alamat penuh, tarikh lahir, no. telefon bimbit, hajat/tujuan anda, pekerjaan anda - untuk membolehkan Tuan Guru menyediakan hadiah Ilmu Al-Hikmah, Batu Hikmah, Pendinding Diri, Ayat Pengasih, Tangkal/Azimat/Batu/ Cincin/Loket/Rantai/ Uncang/Minyak/Ibu Duit/Ibu Dinar/Ibu Rezeki/dll - KHAS untuk anda.
2) Poskan pesanan anda dan 'Slip Bank'/'Wang Pos' (berpalang) dibuat atas nama EVERB kepada:
EVERB
W.D.T. No. 39,
Lot 20 Bt 20 Jln Ipoh,
48000 Rawang, Selangor,
Malaysia.
Semua buku, barang dan hadiah dijamin ada.
Jangan hantar Wang Pos yang kosong.
Jangan guna pos biasa.
Hantar dengan POS EKSPRES (hanya RM2.50)