The Bedside Book Of CELEBRITY GOSSIP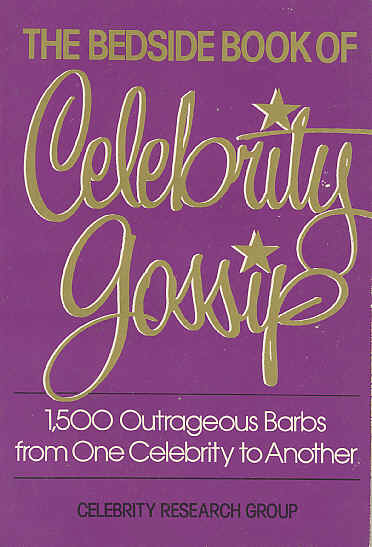 An audacious collection of outrageous cracks to make you crack up.
Read what famous people like Lyndon Johnson, Fred Allen, Groucho Marx, Bette Midler, Dean Martin, Williams, George Burns, Carol Burnett, Clark Gable, Gandhi, Mick Jagger, John Lennon, Dolly Parton, and many others gossip about other famous people.
1500 hilarious barbs from one celebrity to another. Here's a book guaranteed to appeal to everyone's baser instincts. Weight 160 gm approx. net.
#4145 .................................................... RM34.01 (US$8.95) postpaid
---
The Bedside Book Of CELEBRITY BLOOPERS

By Kermit Schafer.
Here's Johnny Carson, Bob Hope, Raquel Welch, Walter Cronkite, David Frost and countless other stars caught with their proverbial pants down before the censor could save the situation with his ubiquitous bleep.
Here are bloopers that were too hot for TV. Some moments are famous and some are fantastic finds. See your favorite celebrities in some of their most embarrassing moments. Weight 100 gm approx. net.
#4146 ........................................................ RM30.21 (US$7.95) postpaid
---
THE MOVIE GREATS

A book showing the most memorable moments in certain films - the "Movie Greats" - that stand out as high points - single, lasting, striking visual scenes in the movie world. Interesting and informative. Featuring interesting articles about the movie stars who became screen legends.
As long as people care about great performances, classic stories, and the magic of the camera, some films will remain "Movie Greats." There are moments in certain films that stand out as high points of our collective consciousness: the chariot race in BEN-HUR, the "Whadda ya wanna do" scene from MARTY, the moment in CASABLANCA when Humphrey Bogart gives the famous "good-bye" speech to Ingrid Bergman.

Once in a while, a single, striking visual image catches at something deep in our minds and holds on. The picture of Burt Lancaster and Deborah Ken embracing in the surf in FROM HERE TO ETERNITY is such an image. Or think about George C. Scott in full uniform against the backdrop of a giant American Flag in PATTON.
When a film can give us an image that indelible, that lasting, it surely deserves its place in the company of the best. It becomes a "MOVIE GREAT."
#930 ...................................................... RM30.40 (US$8.00) postpaid
---
BLUFF YOUR WAY AT FORTUNE TELLING
In other areas of human endeavour bluffing is an easy way out - a method of artificially appearing knowledgeable. In fortune telling it is a way of life. In fact there are those who would suggest (rather unkindly) that it is nothing but a stylized, ritualized form of bluffing from beginning to end.

Even if you believe that it is not all total nonsense, it is worthwhile remembering the fundamental rule of fortune telling. It is easier to persuade other people that you can tell the future than to actually do it.

There are many in-built advantages for the bluffer in fortune telling. Even the most sensible people seem quite prepared to believe in the most unlikely methods. People rush to have their future revealed by gypsies when they wouldn't think of asking advice from any other person whose main source of income was selling clothes pegs.

What follows is a reasonably comprehensive list of the best forms of augury with enough details to pass yourself off as an expert on the subject and to allow you to charge extortionate fees for readings. There are also details about those forms of predictive science that are so popular that you have to know something about them - although they are best left to advanced bluffers
(i.e. the people who are making a living out of doing it now).

Each section has a rating for obscurity, for artistic interpretation and for technical merit. The higher the obscurity rating, the easier it is for novice bluffers to pass themselves off as experts.

The artistic interpretation mark shows whether the form of augury is easy to interpret. In practice this means having the least amount of details to remember and the most clues to help you 'make it up as you go along" without drying up.
'Astound your friends by your apparent understanding of subjects you know nothing about.'

Evening Express (Aberdeen)

'Full of exactly the right sort of information to enable you to stand apart from the crowd.'

Daily Examiner (Huddersfield)

'All you need to get on in the world is bluff.'

Western Morning News (Plymouth)
CONTENTS

Astrology - The Theory - Popular Astrology - The Planets - Having Fun - The Signs - The Elements - Predictions - Chinese Astrology - Fortune Telling - Basic Rules - Golden Rules - Pick Your Science - Clairvoyance - I Ching - Casting the Hexagram - Interpretation - Jung and I Ching - Metoposcopy - Molescopy - General Rules - Oneiromancy - Interpretation - Palmistry - Technical Terms - Books - The Technique - The Mounts - The Lines - Phrenology - Interpretation - Runes - The Tarot - History - Picking the Pack - The Major/Grand Arcana - The Minor Arcana - Handy Tips - Face Cards - The Numbers - Layouts - Books - Having Fun

#6315 .......................................................... RM30.40 (US$8.00) postpaid
---

"We can divide ambition into two types - that of the mind and heart. Ambition of the mind is where you strive for money, fame and power. You use your mind to conceive all kinds of material excessiveness and you would use all means to get what you want."
- Van Gogh
---
Copyright © 2002 - 2013 by EVERB (WHATSAPP +60178705831) Impeccable worldwide service
Click Here To Join
•
Uncang Orang Kaya
•
SenaraiBukuMinda1
•
Senarai Buku Minda2
•
Agen_Pengedar
•
Agen_Pemasaran
•
Agen_Peniaga
•
Laman Web
Reprint Rights
• Books
• Ebooks
• Reports
• Manuals
• Tapes
• CDs.
Products
• Opportunity
•

Services
•
Unique
•

Special
•
•
•
About Us
•
Other
•
•
•
Semua Tangkal-Azimat diisikan dengan Hikmat Ayat untuk menolong menyelesaikan masalah anda. Dibuat KHAS untuk anda dengan Kuasa Minda dan ditahbiskan, diprogramkan, diuntukkan oleh Tuan Guru Mohammad Putra mengikut maklumat dalam surat/pesanan anda.
Tok adalah ahli batin yang berjaya, ahli fikir agung, pengarang beratus-ratus buku.'Walaupun masyhur, kehidupannya sentiasa sederhana seperti kanak-kanak. Sebagai seorang berwawasan, keinginannya ialah supaya kaum manusia hidup bahagia.
Untuk memesan, ikut arahan berikut:
1) sila hantar sekeping kertas/surat/borang pesanan dengan maklumat berikut:- nama anda, alamat penuh, tarikh lahir, no. telefon bimbit, hajat/tujuan anda, pekerjaan anda - untuk membolehkan Tuan Guru menyediakan hadiah Ilmu Al-Hikmah, Batu Hikmah, Pendinding Diri, Ayat Pengasih, Tangkal/Azimat/Batu/ Cincin/Loket/Rantai/ Uncang/Minyak/Ibu Duit/Ibu Dinar/Ibu Rezeki/dll - KHAS untuk anda.
2) Poskan pesanan anda dan 'Slip Bank'/'Wang Pos' (berpalang) dibuat atas nama EVERB kepada:
EVERB
W.D.T. No. 39,
Lot 20 Bt 20 Jln Ipoh,
48000 Rawang, Selangor,
Malaysia.
Semua buku, barang dan hadiah dijamin ada.
Jangan hantar Wang Pos yang kosong.
Jangan guna pos biasa.
Hantar dengan POS EKSPRES (hanya RM2.50)