THE TRUTH ABOUT CHAIN LETTERS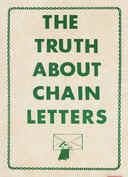 Earn $60,000 in two weeks just by mailing 600 letters! Can YOU? Now the TRUTH is finally revealed ..
Have you received a letter with a headline similar to this? A letter that promises untold wealth if you'll just continue the "chain?" A letter that even shows you the mathematical "certainty" of huge profits by following the simple instructions?
Now you can discover exactly what a chain letter can and cannot do for you. Learn how to profit from chain letters and how to avoid being "stung."
Before you spend one dime on any scheme you receive in the mail, check it out. This book reveals the facts you need to know.
Find out if the plan you're considering is really legal. Learn what the actual Postal Laws are, and how you can avoid illegal plans that might cost you a fine, imprisonment or both!
Take a look at the various types of Chain Letters that are being circulated today .. the Financial Gain ones, the Recipe clubs, the Collection chains, and the Prayer and Good Luck schemes. See what they all have in common besides taking your hard-earned money.
Discover how chain letter mathematical calculations really add up. Unlimited profits, or pie-in-the-sky? Or are your being led down the path to financial disaster?
Discover the clever way Chain Letters are written to insure the greatest participation. And, learn how Chain Letters originators make their big bucks.
Follow how Chain Letters are distributed and to what groups. Plus, find out where to turn to if you have a complaint about Chain Letters or any other mail order transaction.
Examine the commonality and differences between various types of chain letters. And relive with the author of this best-selling book his own experiences with chain letters. It's all here in this dynamic book. A book you'll read from cover to cover and then reread.
Here's what others say:
'..The information and facts contained in this book are not only accurate but typical of what happens to an individual who participates in a chain letter plan. Must reading'. C. Moore Bookseller

'A thorough well-written look at a field that has become rampant in the past few years. Beginners and pros alike will learn a lot from this informative guide. Before you decide to take part in any business venture by mail, make sure you read this book first.' Al Galasso Book Dealers World.
Absolutely mandatory for anyone contemplating involvement in a chain letter or anything that looks like it, including Mail Order, Direct Selling, Multi-Level Marketing. and Referral Programs.
#1788 ................................ RM45.60/US$12

---
"The world is a wonderful place when you stop believing in sins, obligations, and capitalist ideals."
- Van Gogh
---
---
Copyright © 2002 - 2013 by EVERB (WHATSAPP +60178705831) Impeccable worldwide service
Click Here To Join