HOW TO SELL BOOKS BY MAIL

This book also includes FREE the valuable resource guide - A DIRECTORY OF WHOLESALE BOOK SOURCES. You learn where the money is and how to get it.
This combination instruction manual can help you establish a profitable mail order book business. The author, Joseph S. Soukup is a respected "old pro" and teaches from experience, not from a textbook.
This manual is easy to read and easy to use. Discover how to:
Get started on a shoestring.

Get the most from your advertising and printing dollar.

Secrets of result-getting classified ads.

How to sell direct from the ad.

Effective direct mail selling.

Build your own mailing lists.

How to test for best results.

The "best time" for mail selling.

Rapidly build your own mail order business.
The DIRECTORY of whole sale book sources is an extensive one. Listing from Astrology to Zoology, from Business books to Joke books, the information and addresses are all here! Buy low - sell high! Make up to 400% profits and more by dealing with the wholesale sources.
A must-read book for all in the mail order business.
#1562 .................................................... RM57.00 (US$15.00) postpaid

---
BOOK MARKETING MADE EASIER
Mandatory for any self-publisher, 160 pages of information, instructions, and tear-out, copy able forms to assist you in the successful marketing your book.
Discover secrets of major publishers, ISBN, SAN, and Library of Congress numbers, copyrights, free radio & TV publicity, interviews, bookstores, and so much more.
#1789 ..................................................... RM75.81 (US$19.95) postpaid

---
HOW TO DEVELOP A WORLDWIDE DISTRIBUTOR NETWORK

Learn how to sell worldwide by mail using independent distributors. This report reveals the moneymaking techniques. Go for it now.

553"

#3610 ........................................................ RM26.60 (US$7.00) postpaid

---
HOW YOU CAN MAKE A FORTUNE SELLING INFORMATION BY MAIL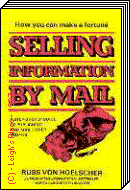 Full-time or spare-time, the money-making potential of mail order information marketing is tremendous. In this remarkable new book, Russ von Hoelscher, a grand master of mail order and information sales, shows you how to make a fortune in this most rewarding business.
Just a partial list of contents.
How to find salable information products.

The secrets of getting rich with "paper and ink".

How to self-publish your own books, manuals, directories, re- ports, newsletters, tapes, etc. even if you have no writing/publishing experience.

How to launch your business with very little investment.

Why "specialized" information is the key to riches.

Space advertising - How to use it to get rich.

Successful classified advertising techniques.

How to make big money with direct mail.

Russ's master marketing techniques.

How famous writer/publisher Melvin Powers sold over 200 million books - mostly by mail.

What the legendary Joe Karbo say about creative marketing.
#4014 ....................................................... RM75.81 (US$19.95) postpaid

---
PROFITABLE NEW TECHNIQUES FOR SELLING BOOKS BY MAIL

How to modernize and improve your offerings for bigger profits.

5951"

#3604 ........................................................ RM26.60 (US$7.00) postpaid

---
Related pages:

5951"
---
"To solve your problem, you need to look at the situation from a different angle. You need to if you want to break away from the difficult situation and move on in life. You needs to adopt a new world view. Change your perspective. It is all a matter of perception."
- Van Gogh
---
Copyright © 2002 - 2013 by EVERB (WHATSAPP +60178705831) Impeccable worldwide service
Click Here To Join
•
Uncang Orang Kaya
•
SenaraiBukuMinda1
•
Senarai Buku Minda2
•
Agen_Pengedar
•
Agen_Pemasaran
•
Agen_Peniaga
•
Laman Web
---
Semua Tangkal-Azimat diisikan dengan Hikmat Ayat untuk menolong menyelesaikan masalah anda. Dibuat KHAS untuk anda dengan Kuasa Minda dan ditahbiskan, diprogramkan, diuntukkan oleh Tuan Guru Mohammad Putra mengikut maklumat dalam surat/pesanan anda.
Tok adalah ahli batin yang berjaya, ahli fikir agung, pengarang beratus-ratus buku.'Walaupun masyhur, kehidupannya sentiasa sederhana seperti kanak-kanak. Sebagai seorang berwawasan, keinginannya ialah supaya kaum manusia hidup bahagia.
Untuk memesan, ikut arahan berikut:
1) sila hantar sekeping kertas/surat/borang pesanan dengan maklumat berikut:- nama anda, alamat penuh, tarikh lahir, no. telefon bimbit, hajat/tujuan anda, pekerjaan anda - untuk membolehkan Tuan Guru menyediakan hadiah Ilmu Al-Hikmah, Batu Hikmah, Pendinding Diri, Ayat Pengasih, Tangkal/Azimat/Batu/ Cincin/Loket/Rantai/ Uncang/Minyak/Ibu Duit/Ibu Dinar/Ibu Rezeki/dll - KHAS untuk anda.
2) Poskan pesanan anda dan 'Slip Bank'/'Wang Pos' (berpalang) dibuat atas nama EVERB kepada:
EVERB
W.D.T. No. 39,
Lot 20 Bt 20 Jln Ipoh,
48000 Rawang, Selangor,
Malaysia.
Semua buku, barang dan hadiah dijamin ada.
Jangan hantar Wang Pos yang kosong.
Jangan guna pos biasa.
Hantar dengan POS EKSPRES (hanya RM2.50)
---
Reprint Rights
• Books
• Ebooks
• Reports
• Manuals
• Tapes
• CDs.
Products
• Opportunity
•

Services
•
Unique
•

Special
•
•
•
About Us
•
Other
•
•
•