HOW TO BORROW YOUR WAY TO REAL ESTATE RICHES
Here's an amazing fact. Most millionaires are not any smarter or better educated than the average wage-earner.
In fact, many were C-average-and-below students in high school! And almost half never went to college. On top of that, the vast majority were flat broke when they got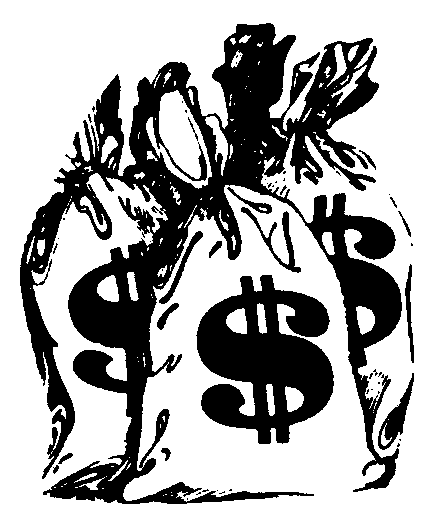 started. So how did they become rich? By investing in real estate - yes, even when they were flat broke.
You see, those who are wealthy today didn't SAVE their way to wealth. No, sir! Instead, they BORROWED their way to a king's fortune. And some had credit ratings that would make a pawnbroker blush!
Now, for the ridiculous cost of an average lunch, you have the opportunity to learn the secrets of the millionaires. Ty Hicks, one of the FOREMOST experts on the subject of creating wealth - whose books have sold over 1.5 million copies - reveals the hidden secrets of the millionaires in this remarkable book.
In simple language that ANYBODY can understand, Ty uncovers the methods, formulas, and steps that you can use. RIGHT NOW give yourself and your family the financial security and lifestyle that you need, want and deserve.
Here's just a sampling of what you'll learn in this power-packed, 320-page book:
How to control acres of land with out owning it. (And still make $$$ on the appreciation!)

How to prepare an irresistible loan package to make bankers drool!

How to get an oversized real estate loan and pocket $$ (one of the best ways to get instant cash!)

Why single-family houses are your best place to begin.

How to move from family homes to owning apartment buildings.

How to rent collateral and get a loan even if you are bankrupt.

How to collect rents effortlessly.

How to make rehabs, foreclosures, and other off-beat real estate work in making you a millionaire.
Ty has received thousands of letters from people who have profited from his easy-to-do advice. Here's what others say:
"In the past six months we've purchased four pieces of real estate totaling $2,650,000 for $4 down payment - $1 on each deal." S.P.H. (Canada)

"In 1979 ... I moved to N.Y. City to make my fortune. Unfortunately, fate had other plans for me, and I was soon driving a taxicab to survive. One day, I bought one of Ty Hicks' books...I was soon convinced that I, too, could financial independence. Today I own two co-ops valued at close to $400,000 that I bought with very little money down. I also have a $20,000 line of credit ... despite a rocky credit report from my struggling years. Thank you, Ty." Robbie Vorhaus (NY)

"Since I've read your book I have purchased five income properties and I'm looking for the sixth." E.L.A. (IL)

"Four months ago I read your book. From that time until now I've acquired a hotel and a farm and have in excess of $200,000 in equities." D.L.F. (AZ)
You know what? This can happen to you! Millionaires know that there's a lot more to life than working for others. And with a little help from Ty Hicks, you can be transformed from a wage earner into a wealth builder. Remember, if others can do it, so can you!
Weight 520 gm. approx. net.
#1784 ....................................................... RM114.00 (US$30.00) postpaid
---
To order by mail or fax, please copy, print, fax or mail this Order Form.
Please read the How To Order INSTRUCTIONS before ordering. Orders to all countries are shipped by regular surface mail. Before ordering, please send an email to "e.verb@yahoo.com" or telephone (Malaysia) 017-5231484 / or SMS to (Malaysia) 017-5231484 / WHATSAPP +60178705831 //to confirm prices, shipping, delivery, bonuses, payment and availability. Thank you.
- - - - - - - - - - - - - - - - ORDER FORM - - - - - - - - - - - - - - -
OK..... Send my copy of "HOW TO BORROW YOUR WAY TO REAL ESTATE RICHES" at once. Enclosed is RM114.00 (US$30.00) postpaid.
Orders for books and similarly heavy items to all countries are shipped by 3rd or 4th class surface mail. Lighter items such as CDs and DVDs are sent by Air Mail. In some cases, shipping may be higher due to the heavier weight of the books or items. In case of doubt, please write, phone, or e-mail to us. NOTE: Any overpayment in shipping is refunded, cheerfully, as a matter of routine.
INTERNATIONAL AIR MAIL: If you want delivery by fast priority international Air Mail, please enclose additional payment. (1) For Air Mail to Asia-Pacific countries, please add at least US$7.00 for Air Mail. (2) For Air Mail to Europe, Middle East and Russia, please add at least US$8.00 for Air Mail. (3) For Air Mail to North America, Central, and South America, Africa, add at least US$9.00 for Air Mail. In some cases, the Air Mail charges may be higher than the ones sated here due to the heavier weight of the items, postal surcharges.
INTERNATIONAL COURIER: If you want delivery by Poslaju International Courier, (or Skynet, UPS, FedEx or international air courier), please note that the charges may cost much more than those for Air Mail. Typically, for a 500gm package (documents/printed matter only) the charges are as follows: West Malaysia (RM6); Sarawak (RM8); Sabah (RM9); Singapore (RM50); Brunei (RM50), Indonesia (RM55), Thailand (US$16), Argentina (US$45), Brazil US$45), Sweden (US$46); Australia (US$26), New Zealand (US$26), Bangladesh (US$25), China (US$30), India (US$26), Japan (US$26), Pakistan (US$26), Philippines (US$22), South Korea (US$24); Austria (US$32), Belgium (US$32), Iceland (US$39), Ireland (US$32), Switzerland (US$31), Tunisia (US$33), United Kingdom (US$32), Venezuela (US$35); Bahrain (US$26), Jordan (US$26); Cambodia (US$20), Lao (US$20), Vietnam (US$20); Canada (US$35), France (US$32), Kuwait (US$26), Saudi Arabia (US$28), Norway (US$35), Russia (US$35); Denmark (US$32), Greece (US$32), Kenya (US$32); Egypt (US$31), Iran (US$37), Luxembourg (US$44), Maldives (US$25), Papua New Guinea (US$24), Portugal (US$32), Qatar (US$26), Sri Lanka (US$27), United Arab Emirates (US$28); Finland (US$32), Italy (US$32), Nigeria (US$42), Netherlands (US$35), Spain (US$37); Germany (US$32); Hong Kong (US$22), Macau (US$22), Taiwan (US$24); Turkey (US$25), United States of America (US$32); Rest of the world (US$54)
#1784
[ ] I've enclosed RM114.00 (US$30.00) [ ] Check [ ] Money Order
[ ] Postal Orders [ ] Bank Draft [ ] Cash
[ ] I prefer to use my Visa or

_
Date: ______________________________________________________
Signature: __________________________________________________

| | |
| --- | --- |
| Your Name: | __________________________________ |
| Your Address: | __________________________________ |
Mail your order today with payment to:-
EVERB

W.D.T. No. 39

Lot 20 Batu 20 Jalan Ipoh

48000 Rawang, Selangor

Malaysia.
---