FINDING AND FIXING OLD HOUSES
(for Fun and Fortune)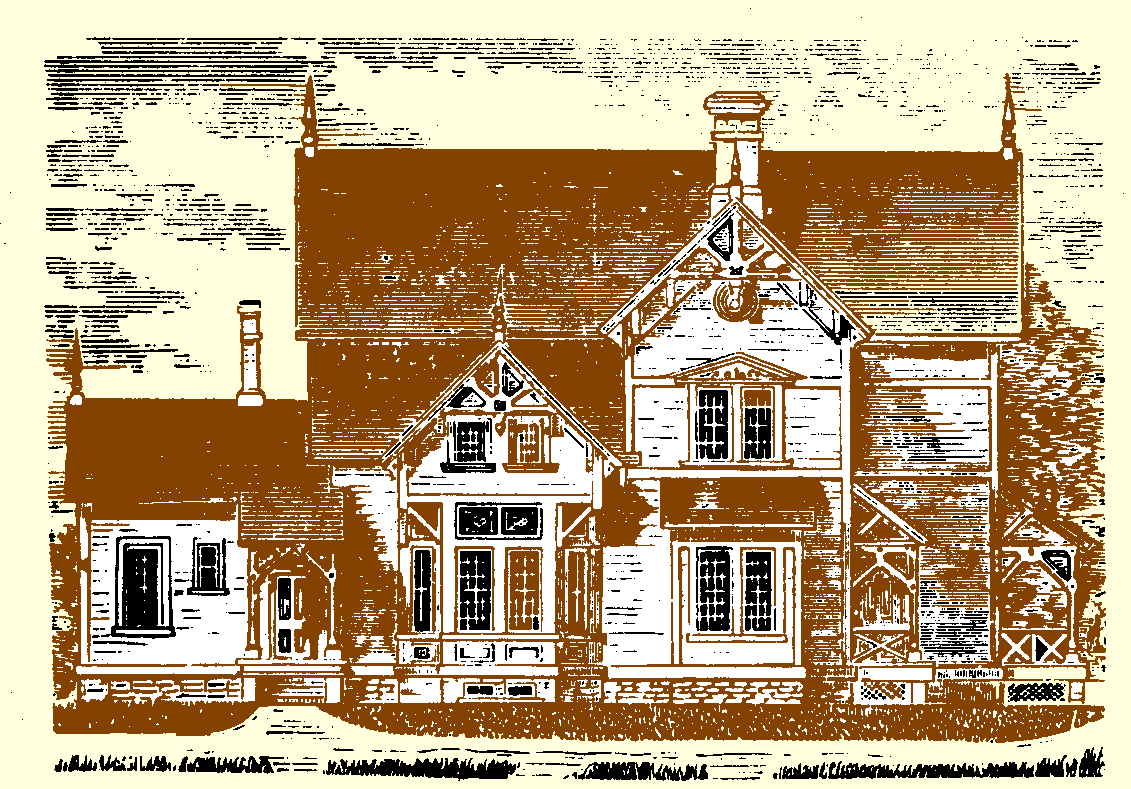 HAVE YOU EVER DREAMED of getting into a business where you could be really CREATIVE, work on your own time and make a HANDSOME PROFIT in the process?
You don't have to have a big bank account or be a skilled tradesman to do it. Anyone with enthusiasm or a desire to create - improve- visualize - CAN DO IT! Step by step, you will be guided through the entire procedure so that you can avoid the many pitfalls, and be ...

SUCCESSFUL

... in your efforts to FIND, BUY and FIX an Old House and Make-
a-Bundle in the process - full or part time - on a budget that you CAN afford!

"FINDING & FIXING OLD HOUSES" is not a "Before & After" picture book of what others have accomplished, nor is it full of glossy full color pictures of Decorator Ideas. It is a PRACTICAL GUIDE for a do-it-yourself person who wants to have some fun and really "Do Something Different!"

The authors first started with just $600 cash which they wisely invested and went on to make a good profit by following the principles outlined in this fascinating book.

As you can readily see, this is no "dream" book for those who just like to
dream about making easy money, nor is it a get-rich-quick book that will, supposedly, make you bundles of money while you sit around doing nothing. Rather, this is a book for the DOER, for the one in a thousand who likes to dig in and do something, being their own creative genius, making their own masterpiece, and then making a handsome profit from it!

"FINDING & FIXING OLD HOUSES" is written from experience by those who have followed the procedures outlined in this book and have used them in a wide variety of circumstances to FIND AND FIX numerous old houses - and did it profitably!
CAN YOU DO IT?

Most of us are a little unsure of ourselves and sometimes feel that we can't do things that others can do. This is quite natural because we fear the unknown. However, if we study and learn, and the subject becomes known to us we become less fearful and even begin to develop positive feelings such as "I bet I CAN do that, too." If you read this material with an open mind and a positive attitude, thinking as you proceed through the pages you will learn, and by learning, be able to do it also. There is no great mystery to learning provided you really want to learn.

As to the major premise of this book -- it is to tell you that it is possible to buy and fix houses, even if you don't have a big bank account. You don't have to be an architect, builder, real estate broker, or a skilled craftsman. Naturally, any experience you have in related fields will help you. Even if you have a full time job in an unrelated field, it is within your power to do what you will be told in this book. So read on -- with a positive attitude -- you may end up as a real "wheeler-dealer!"

ABOUT THE AUTHORS

Bev and Eleanor Harris have probably spent the greatest part of their married life buying and fixing houses. Unless a few were forgotten, they bought and sold or still have some of 17 homes. They also set up and rented six retail stores, plus several warehouses -- a total of about 30 buildings in all.

Eleanor Harris studied two years in Business College. She also worked in the Quartermaster General's Office in Washington, D.C. Until recently she was a licensed real estate salesperson.

Bev Harris received a degree in Sales and Marketing. He also studied real estate law and real estate appraisal at a local college. He operated his own Real Estate Brokers Office until just recently.

Both have worked in and on real estate from the lowest priced properties to some good-sized projects.

Their desire is to share their knowledge and experiences with others. They sincerely hope that the readers will enjoy and benefit from this book.

HERE IS JUST A PARTIAL LIST of contents of what you'll find in
"FINDING & FIXING OLD HOUSES"
* Can you do it?
* Where should you start?
* What skills are needed?
* Things to look for.
* How to choose the first one.
* What about financing?
* Making a list of repairs.
* Who will do the work?
* How to figure total cost.
* Figuring your budget and cash flow.
* Little things that add lots of value at a low cost.
* Actual case histories.
* Free help.
* Looking for bargains.
* Proper mental approach.
* Some unusual buildings.
* Real Estate not recommended.
* Retail stores.
* Why do it at all?
and many more subjects.
Those are "just for starters! Over 24 different actual properties will be discussed - ranging from some bought for under $1,000 to one that sold for close to $100,000!

We know you will value this GUIDE for many years, but to prove that its all we say it is, and more, you need to see it -- and so we make this simple straight-forward GUARANTEE.

OUR GUARANTEE

Read and study this book for 30 days. If you feel it is not full of
good ideas, simply return it in good condition within 30 days'-and your
money will be refunded promptly!
Fabulous profits being made each day by ordinary folks who enjoy fixing up older houses. This book tells all the simple techniques.

104 Pages -- 5-3/8x8-1/2", Typeset

MAIL THIS COUPON TODAY for your copy of "FINDING & FIXING OLD HOUSES"
#1734 ....................................................... RM57.00 (US$15.00) postpaid
---
To order by mail or fax, please copy, print, fax or mail this Order Form.
Please read the How To Order INSTRUCTIONS before ordering. Orders to all countries are shipped by regular surface mail. Before ordering, please send an email to "e.verb@yahoo.com" or telephone (Malaysia) 017-5231484 / or SMS to (Malaysia) 017-5231484 / WHATSAPP +60178705831 //to confirm prices, shipping, delivery, bonuses, payment and availability. Thank you.
- - - - - - - - - - - - - - - - ORDER FORM - - - - - - - - - - - - - - -
Please send my copy of Finding & Fixing Old Houses. I enclose Money Order/Postal Orders/Bank Draft/Cash for RM57.00 (US$15.00) postpaid.
Orders for books and similarly heavy items to all countries are shipped by 3rd or 4th class surface mail. Lighter items such as CDs and DVDs are sent by Air Mail. In some cases, shipping may be higher due to the heavier weight of the books or items. In case of doubt, please write, phone, or e-mail to us. NOTE: Any overpayment in shipping is refunded, cheerfully, as a matter of routine.
INTERNATIONAL AIR MAIL: If you want delivery by fast priority international Air Mail, please enclose additional payment. (1) For Air Mail to Asia-Pacific countries, please add at least US$7.00 for Air Mail. (2) For Air Mail to Europe, Middle East and Russia, please add at least US$8.00 for Air Mail. (3) For Air Mail to North America, Central, and South America, Africa, add at least US$9.00 for Air Mail. In some cases, the Air Mail charges may be higher than the ones sated here due to the heavier weight of the items, postal surcharges.
INTERNATIONAL COURIER: If you want delivery by Poslaju International Courier, (or Skynet, UPS, FedEx or international air courier), please note that the charges may cost much more than those for Air Mail. Typically, for a 500gm package (documents/printed matter only) the charges are as follows: West Malaysia (RM6); Sarawak (RM8); Sabah (RM9); Singapore (RM50); Brunei (RM50), Indonesia (RM55), Thailand (US$16), Argentina (US$45), Brazil US$45), Sweden (US$46); Australia (US$26), New Zealand (US$26), Bangladesh (US$25), China (US$30), India (US$26), Japan (US$26), Pakistan (US$26), Philippines (US$22), South Korea (US$24); Austria (US$32), Belgium (US$32), Iceland (US$39), Ireland (US$32), Switzerland (US$31), Tunisia (US$33), United Kingdom (US$32), Venezuela (US$35); Bahrain (US$26), Jordan (US$26); Cambodia (US$20), Lao (US$20), Vietnam (US$20); Canada (US$35), France (US$32), Kuwait (US$26), Saudi Arabia (US$28), Norway (US$35), Russia (US$35); Denmark (US$32), Greece (US$32), Kenya (US$32); Egypt (US$31), Iran (US$37), Luxembourg (US$44), Maldives (US$25), Papua New Guinea (US$24), Portugal (US$32), Qatar (US$26), Sri Lanka (US$27), United Arab Emirates (US$28); Finland (US$32), Italy (US$32), Nigeria (US$42), Netherlands (US$35), Spain (US$37); Germany (US$32); Hong Kong (US$22), Macau (US$22), Taiwan (US$24); Turkey (US$25), United States of America (US$32); Rest of the world (US$54)
#1734
[ ] I've enclosed RM57.00 (US$15.00) postpaid [ ] Check [ ] Money Order
[ ] Postal Orders [ ] Bank Draft [ ] Cash
[ ] I prefer to use my Visa or MasterCard


_
NAME (as in card): __________________________________________
SECURITY NUMBER: (at back of
Date: ______________________________________________________
Signature: __________________________________________________

| | |
| --- | --- |
| Your Name: | __________________________________ |
| Your Address: | __________________________________ |
Mail your order to:-
EVERB

W.D.T. No. 39

Lot 20 Batu 20 Jalan Ipoh

48000 Rawang, Selangor

Malaysia.
---

"As you understand yourself, you will understand the need to be silent at times. It is not scary to spend time alone with your self. In time, you could enter into your mental retreat even when you are among people. It's all in your mind."
- Van Gogh
---
Copyright © 2002 - 2013 by EVERB (WHATSAPP +60178705831) Impeccable worldwide service
Click Here To Join
•
Uncang Orang Kaya
•
SenaraiBukuMinda1
•
Senarai Buku Minda2
•
Agen_Pengedar
•
Agen_Pemasaran
•
Agen_Peniaga
•
Laman Web
---
Semua Tangkal-Azimat diisikan dengan Hikmat Ayat untuk menolong menyelesaikan masalah anda. Dibuat KHAS untuk anda dengan Kuasa Minda dan ditahbiskan, diprogramkan, diuntukkan oleh Tuan Guru Mohammad Putra mengikut maklumat dalam surat/pesanan anda.
Tok adalah ahli batin yang berjaya, ahli fikir agung, pengarang beratus-ratus buku.'Walaupun masyhur, kehidupannya sentiasa sederhana seperti kanak-kanak. Sebagai seorang berwawasan, keinginannya ialah supaya kaum manusia hidup bahagia.
Untuk memesan, ikut arahan berikut:
1) sila hantar sekeping kertas/surat/borang pesanan dengan maklumat berikut:- nama anda, alamat penuh, tarikh lahir, no. telefon bimbit, hajat/tujuan anda, pekerjaan anda - untuk membolehkan Tuan Guru menyediakan hadiah Ilmu Al-Hikmah, Batu Hikmah, Pendinding Diri, Ayat Pengasih, Tangkal/Azimat/Batu/ Cincin/Loket/Rantai/ Uncang/Minyak/Ibu Duit/Ibu Dinar/Ibu Rezeki/dll - KHAS untuk anda.
2) Poskan pesanan anda dan 'Slip Bank'/'Wang Pos' (berpalang) dibuat atas nama EVERB kepada:
EVERB
W.D.T. No. 39,
Lot 20 Bt 20 Jln Ipoh,
48000 Rawang, Selangor,
Malaysia.
Semua buku, barang dan hadiah dijamin ada.
Jangan hantar Wang Pos yang kosong.
Jangan guna pos biasa.
Hantar dengan POS EKSPRES (hanya RM2.50)
---
Reprint Rights
• Books
• Ebooks
• Reports
• Manuals
• Tapes
• CDs.
Products
• Opportunity
•

Services
•
Unique
•

Special
•
•
•
About Us
•
Other
•
•
•