The Magic Of Credit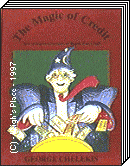 Erase your debts - FOREVER! It can be done -- if you have the right tools. You can change your mountains of troublesome bills from a nagging worry into a high-powered plan to build your personal wealth and financial security. In this critically acclaimed book, you learn step-by-step how to improve, increase, or repair your credit.
Have you ever been turned down for a bank loan? The Magic of Credit will reveal the inside secrets of the bank's scoring system and provide you with crucial tips on how to significantly increase your chances for loan approval. Need low-cost credit cards in a hurry? Discover how to get major credit cards when everyone has told you "No" before. Looking to buy that first home? A new business? Perhaps you're looking to increase your personal wealth through real estate purchases? The government has lots of money to lend. Find out where to get it at interests rates below those charged by the banks.
You'll Discover:
Discover The Magical Power Of Your Credit Potential
Quickly Increase Your Credit Card Limit
Reduce Your Home Mortgage By $10,000 Or More
Stop Collection Agencies Dead In Their Tracks
Get Government Money To Buy A Home Or Business
Delete Negative Points From Your Credit Report
The inside secrets on bank scoring systems
Where to turn in tough financial times
Where to get the lowest interest rates
How to secure venture capital
A complete glossary of terms

Take that first step to financial security. Discover these easy methods of securing, controlling, and building the credit you and your family deserve. Order Today!
Thousands sold by TV at $99.95 now get your copy for just a fraction of that price! 380 Pages.
#4047 ............................................................... RM95.00 (US$25.00) postpaid
---
The Action Guide To Government Auctions and Real Estate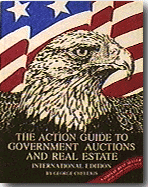 Is there still money to be made buying and selling merchandise bought at United States Government Auctions? You bet there is, and plenty of folks are doing just that.
George Chelekis, one of America's recognized authorities on helping consumers and entrepreneurs increase their buying power presents the step-by-step instructions designed to propel you on the road to success through government auctions and sales. For only $19.95, this power-packed 249 page study guide will reveal how you can make government auctions and sales work for you.
Learn how and why the government is literally "giving away" hundreds of thousands of dollars in new and used merchandise for only pennies on the dollar. Find out what agencies are selling off their holdings at rock-bottom prices, and how you can get your share. Cash in on the incredible bargains offered each and every month at locations throughout the country.
But the U.S. Government is not the only seller willing to dump his possessions for next to nothing. Cities, counties, state agencies, even your local police department and sheriffs' offices are regularly auctioning off a tremendous assortment of items: luxury cars, boats, jewelry, computers, bicycles, furniture guns, and more!
You'll find out exactly how auctions work, how the bids are made, what steps you must take to participate, and how to get advance notice of upcoming sales. You'll also discover how to finance your purchases at the lowest possible interest rate.
Free bonus
Act now and receive George Chelekis' fantastic cassette tape telling you exactly how to get started making money with Government Auctions and Real Estate. A $10 value, the tape is free with your purchase of the manual if you act now. Hurry! Supplies are limited. Send for yours today!
#4046 .................................................................. RM95.00 (US$25.00) postpaid
---
Distress Sale! Buying Real Estate in the 1990s

Own the home of your dreams! Looking for a dream home at a rock-bottom price? This gigantic, 384 page manual shows you step-by-step how to get the jump on the competition and snatch-up the best real estate buys in your area. From A to Z, financial czar George Chelekis teaches you how easy buying the home of your dreams can be - at a price you never thought possible!
Discover how the financial difficulties of the past decade can be turned to your advantage. From foreclosures to probates, to tax sales and government-owned real estate, you'll learn how to work with the government's Resolution Trust Corporation to get the real estate bargains you want. Don't even think about buying real estate without reading this outstanding book. You can get the home you want.
Find out how to buy your first home or invest in real estate with NO-MONEY-DOWN!
You'll learn secrets it took others years to discover:
How to save 40% on real estate

Four magic words in buying probate real estate

Where to get the money from the government before foreclosure

The insiders' secrets to buying real estate before foreclosure

How and where to buy government owned real estate at bargain prices!

And much, much more!
Hurry! Get in on the exciting deals to be made in real estate. Own the home of your dreams!
#4049 .......................................................... RM95.00 (US$25.00) postpaid
---
---
Please read the How To Order INSTRUCTIONS before ordering. Orders to all countries are shipped by regular surface mail. Before ordering, please send an email to "e.verb@yahoo.com" or telephone (Malaysia) 017-5231484 / or SMS to (Malaysia) 017-5231484 / WHATSAPP +60178705831 /to confirm prices, shipping, delivery, bonuses, payment and availability. Thank you.
Orders for books and similarly heavy items to all countries are shipped by 3rd or 4th class surface mail. Lighter items such as CDs and DVDs are sent by Air Mail. In some cases, shipping may be higher due to the heavier weight of the books or items. In case of doubt, please write, phone, or e-mail to us. NOTE: Any overpayment in shipping is refunded, cheerfully, as a matter of routine.
INTERNATIONAL AIR MAIL: If you want delivery by fast priority international Air Mail, please enclose additional payment. (1) For Air Mail to Asia-Pacific countries, please add at least US$7.00 for Air Mail. (2) For Air Mail to Europe, Middle East and Russia, please add at least US$8.00 for Air Mail. (3) For Air Mail to North America, Central, and South America, Africa, add at least US$9.00 for Air Mail. In some cases, the Air Mail charges may be higher than the ones sated here due to the heavier weight of the items, postal surcharges.
---
Use this ORDER FORM below when purchasing the above book together with the other two books listed below as part of a Special Package.
1. The Action Guide To Government Auctions and Real Estate
3. Distress Sale! Buying Real Estate in the 1990s
---

"With friends, we dare to fail and fail greatly. Thus, we are easily motivated to great deeds by our friends. With friends, we are contented with even a little."
- Van Gogh
---
Copyright © 2002 - 2013 by EVERB (WHATSAPP +60178705831) Impeccable worldwide service
Click Here To Join
•
Uncang Orang Kaya
•
SenaraiBukuMinda1
•
Senarai Buku Minda2
•
Agen_Pengedar
•
Agen_Pemasaran
•
Agen_Peniaga
•
Laman Web
---
Semua Tangkal-Azimat diisikan dengan Hikmat Ayat untuk menolong menyelesaikan masalah anda. Dibuat KHAS untuk anda dengan Kuasa Minda dan ditahbiskan, diprogramkan, diuntukkan oleh Tuan Guru Mohammad Putra mengikut maklumat dalam surat/pesanan anda.
Tok adalah ahli batin yang berjaya, ahli fikir agung, pengarang beratus-ratus buku.'Walaupun masyhur, kehidupannya sentiasa sederhana seperti kanak-kanak. Sebagai seorang berwawasan, keinginannya ialah supaya kaum manusia hidup bahagia.
Untuk memesan, ikut arahan berikut:
1) sila hantar sekeping kertas/surat/borang pesanan dengan maklumat berikut:- nama anda, alamat penuh, tarikh lahir, no. telefon bimbit, hajat/tujuan anda, pekerjaan anda - untuk membolehkan Tuan Guru menyediakan hadiah Ilmu Al-Hikmah, Batu Hikmah, Pendinding Diri, Ayat Pengasih, Tangkal/Azimat/Batu/ Cincin/Loket/Rantai/ Uncang/Minyak/Ibu Duit/Ibu Dinar/Ibu Rezeki/dll - KHAS untuk anda.
2) Poskan pesanan anda dan 'Slip Bank'/'Wang Pos' (berpalang) dibuat atas nama EVERB kepada:
EVERB
W.D.T. No. 39,
Lot 20 Bt 20 Jln Ipoh,
48000 Rawang, Selangor,
Malaysia. Tel: +6017-8705831 / WHATSAPP +60178705831
Semua buku, barang dan hadiah dijamin ada.
Jangan hantar Wang Pos yang kosong.
Jangan guna pos biasa.
Hantar dengan POS EKSPRES (hanya RM2.50)
---
Reprint Rights
• Books
• Ebooks
• Reports
• Manuals
• Tapes
• CDs.
Products
• Opportunity
•

Services
•
Unique
•

Special
•
•
•
About Us
•
Other
•
•
•