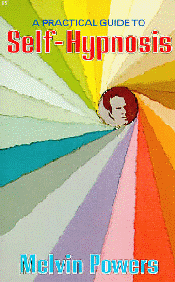 A PRACTICAL GUIDE TO SELF-HYPNOSIS

By Melvin Powers

All of us like to think that our actions and reactions are a result of logical thought processes, but the fact is that suggestion influences our thinking a great deal more than logic. Consciously or unconsciously, our feelings about almost everything are largely molded by ready-made opinions and attitudes fostered by our mass methods of communication.
We cannot buy a bar of soap or a filtered cigarette without paying tribute to the impact of suggestion. Right or wrong, most of us place more confidence in what "they" say than we do in our own powers of reason. This is the basic reason why psychiatrists are in short supply. We distrust our own mental processes and want an expert to tell us what to think and feel.

Despite this tendency to adopt our attitudes from others, man has always been
dimly aware that he can influence his own destiny by directing his thoughts and
actions into constructive channels.
He has always, to some extent, known that his mind exerts a powerful influence his body, and that thoughts can have harmful or helpful effects on his emotional and physical health.
The ancient Egyptian sleep temples and the attempts by early physicians to drive evil spirits out of the body were both attempts to influence the body through the
mind.

The unprecedented sale of The Power of Positive Thinking by Norman Vincent Peale and other inspirational literature proves that millions of modern people
recognize the efficacy of constructive thoughts. What most of them do not
recognize is that they are capable of implanting these beneficial thoughts in
their own minds without reference to any outside agencies. This can be done
through self-hypnosis.

In modern society we have many cults, religions and methodologies which have
mental discipline as their goal.
The best example of a methodology is psychosomatic medicine which deals with the interrelationship of the mind and body in the production of mental or physical illness.
The rapid growth of hypnosis in the last few years is another example, and it is gratifying to see that the emphasis in this field is now shifting from hetero-hypnosis to self-hypnosis.

Self-hypnosis is a highly suggestible state wherein the individual can direct
suggestions to himself. It is a powerful tool in any therapeutic process, and
highly motivated subjects can parallel the success of hetero-hypnosis through
their own efforts. Self-hypnosis can be used as a palliative agent and can even
afford lasting results in many areas of the organism.
Self-hypnosis can alleviate distressing symptoms, substitute strong responses for weak responses, help overcome bad habits, create good habits and help one's power of concentration.
The total personality is eventually changed to the point where it can function adequately in an increasingly difficult environment.

In learning self-hypnosis, the subject does not relinquish control of himself as
is commonly believed. Actually, more control is gained. Self-sufficiency and
self-confidence are inevitable results. It is well to remember, however, that
even good things may be overdone, and good judgment is necessary for favorable
results.
Neither hypnosis nor self-hypnosis should ever be used indiscriminately. The effectiveness of self-hypnosis depends upon many factors.

Strong motivation, intelligent application of suggestions, and diligence are
prerequisites.

This book is written in terms that are comprehensible to the layman. The
step-by-step instructions should afford the reader a means of acquiring
self-hypnosis.
The necessary material is here. The reader need only follow the
instructions as they are given.

It is the author's hope that you will, through the selective use of
self-hypnosis, arrive at a more rewarding, well-adjusted, and fuller life.

CONTENTS

1. WHAT YOU SHOULD KNOW ABOUT SELF-HYPNOSIS
2. WHAT ABOUT THE DANGERS OF HYPNOSIS?
3. IS HYPNOSIS THE ANSWER?
4. HOW DOES SELF HYPNOSIS WORK?
5. HOW TO AROUSE YOURSELF FROM THE SELF-HYPNOTIC STATE
6. HOW TO ATTAIN SELF-HYPNOSIS
7. DEEPENING THE SELF-HYPNOTIC STATE
8. WHAT YOU SHOULD KNOW ABOUT BECOMING AN EXCELLENT
SUBJECT
9. TECHNIQUES FOR REACHING THE SOMNAMBULISTIC STATE
10. A NEW APPROACH TO SELF-HYPNOSIS WHEN ALL ELSE FAILS
11. PSYCHOLOGICAL AIDS AND THEIR FUNCTION
12. THE NATURE OF HYPNOSIS
13. PRACTICAL APPLICATIONS OF SELF-HYPNOSIS

128 Pages.
Book #6131 ......................................................... RM57.00 (US$15.00) postpaid
---
Please read the How To Order INSTRUCTIONS before ordering. Orders to all countries are shipped by regular surface mail. Before ordering, please send an email to "e.verb@yahoo.com" or telephone (Malaysia) 017-5231484 / or SMS to (Malaysia) 017-5231484 / WHATSAPP +60178705831 //to confirm prices, shipping, delivery, bonuses, payment and availability. Thank you.
---
Orders for books and similarly heavy items to all countries are shipped by 3rd or 4th class surface mail. Lighter items such as CDs and DVDs are sent by Air Mail. In some cases, shipping may be higher due to the heavier weight of the books or items. In case of doubt, please write, phone, or e-mail to us. NOTE: Any overpayment in shipping is refunded, cheerfully, as a matter of routine.
INTERNATIONAL AIR MAIL: If you want delivery by fast priority international Air Mail, please enclose additional payment. (1) For Air Mail to Asia-Pacific countries, please add at least US$7.00 for Air Mail. (2) For Air Mail to Europe, Middle East and Russia, please add at least US$8.00 for Air Mail. (3) For Air Mail to North America, Central, and South America, Africa, add at least US$9.00 for Air Mail. In some cases, the Air Mail charges may be higher than the ones sated here due to the heavier weight of the items, postal surcharges.
INTERNATIONAL COURIER: If you want delivery by Poslaju International Courier, (or Skynet, UPS, FedEx or international air courier), please note that the charges may cost much more than those for Air Mail. Typically, for a 500gm package (documents/printed matter only) the charges are as follows: West Malaysia (RM6); Sarawak (RM8); Sabah (RM9); Singapore (RM50); Brunei (RM50), Indonesia (RM55), Thailand (US$16), Argentina (US$45), Brazil US$45), Sweden (US$46); Australia (US$26), New Zealand (US$26), Bangladesh (US$25), China (US$30), India (US$26), Japan (US$26), Pakistan (US$26), Philippines (US$22), South Korea (US$24); Austria (US$32), Belgium (US$32), Iceland (US$39), Ireland (US$32), Switzerland (US$31), Tunisia (US$33), United Kingdom (US$32), Venezuela (US$35); Bahrain (US$26), Jordan (US$26); Cambodia (US$20), Lao (US$20), Vietnam (US$20); Canada (US$35), France (US$32), Kuwait (US$26), Saudi Arabia (US$28), Norway (US$35), Russia (US$35); Denmark (US$32), Greece (US$32), Kenya (US$32); Egypt (US$31), Iran (US$37), Luxembourg (US$44), Maldives (US$25), Papua New Guinea (US$24), Portugal (US$32), Qatar (US$26), Sri Lanka (US$27), United Arab Emirates (US$28); Finland (US$32), Italy (US$32), Nigeria (US$42), Netherlands (US$35), Spain (US$37); Germany (US$32); Hong Kong (US$22), Macau (US$22), Taiwan (US$24); Turkey (US$25), United States of America (US$32); Rest of the world (US$54)
---

"With faith, all things are possible. In life, all things are possible ONLY if you have complete faith. Most people, including priests and spiritual leaders, have little real faith. It is no wonder that many of the finest things in life such as love and happiness are not possible for them. They live lives of quiet frustration. If you want to get what you want in life, study your life lessons faithfully and reward yourself with steady progress."
- Van Gogh
---
Copyright © 2002 - 2013 by EVERB (WHATSAPP +60178705831) Impeccable worldwide service
Click Here To Join
•
Uncang Orang Kaya
•
SenaraiBukuMinda1
•
Senarai Buku Minda2
•
Agen_Pengedar
•
Agen_Pemasaran
•
Agen_Peniaga
•
Laman Web
---
Semua Tangkal-Azimat diisikan dengan Hikmat Ayat untuk menolong menyelesaikan masalah anda. Dibuat KHAS untuk anda dengan Kuasa Minda dan ditahbiskan, diprogramkan, diuntukkan oleh Tuan Guru Mohammad Putra mengikut maklumat dalam surat/pesanan anda.
Tok adalah ahli batin yang berjaya, ahli fikir agung, pengarang beratus-ratus buku.'Walaupun masyhur, kehidupannya sentiasa sederhana seperti kanak-kanak. Sebagai seorang berwawasan, keinginannya ialah supaya kaum manusia hidup bahagia.
Untuk memesan, ikut arahan berikut:
1) sila hantar sekeping kertas/surat/borang pesanan dengan maklumat berikut:- nama anda, alamat penuh, tarikh lahir, no. telefon bimbit, hajat/tujuan anda, pekerjaan anda - untuk membolehkan Tuan Guru menyediakan hadiah Ilmu Al-Hikmah, Batu Hikmah, Pendinding Diri, Ayat Pengasih, Tangkal/Azimat/Batu/ Cincin/Loket/Rantai/ Uncang/Minyak/Ibu Duit/Ibu Dinar/Ibu Rezeki/dll - KHAS untuk anda.
2) Poskan pesanan anda dan 'Slip Bank'/'Wang Pos' (berpalang) dibuat atas nama EVERB kepada:
EVERB
W.D.T. No. 39,
Lot 20 Bt 20 Jln Ipoh,
48000 Rawang, Selangor,
Malaysia.
Semua buku, barang dan hadiah dijamin ada.
Jangan hantar Wang Pos yang kosong.
Jangan guna pos biasa.
Hantar dengan POS EKSPRES (hanya RM2.50)
---
Reprint Rights
• Books
• Ebooks
• Reports
• Manuals
• Tapes
• CDs.
Products
• Opportunity
•

Services
•
Unique
•

Special
•
•
•
About Us
•
Other
•
•
•