How To Make A Whole Lot More Than $1,000,000 (Writing, Commissioning, Publishing & Selling "How-To" Information)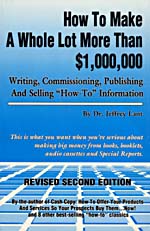 Here, in one information -packed volume you can learn to successfully produce "how-to" books, booklets, reports, and audio and video cassettes. Discover the precise details needed to create a winning product; No vague, infuriating verbiage. Facts. Precise instructions.
Easy-to-follow, ready-to-use guidelines that will propel your product out of the pack and into the winner's circle.

Over 50,000 books are published each year... and many times that many booklets and special .reports. Thousands of audio and video cassettes are created. A large percentage of these products cover "how-to" subjects. They teach the reader "how-to" do something... anything from bringing up the perfect baby to losing ugly fat.

Up until now, however, there have been two major problems with these products:
The information given was too imprecise.

The people creating them didn't know how to market their products for maximum profit.
Now, both of these problems are solved thanks to this dynamic success book from internationally acclaimed author and syndicated columnist. Dr. Jeffrey Lant. How To Make A Whole Lot More Than $1,000,000 Writing, Commissioning, Publishing And Selling "How-To" Information can help you turn your project into a best-seller.

You will discover exact marketing guidelines that producers need to follow in order to sell their superior products - Fast! Tips that will make the creators rich. For the fast time ever, you can own a resource that offers step-by-step details that all authors need to know. Details that can make you rich!

Don't merely publish - PUBLISH AND SELL! Dr. Jeffrey Lant provides a formula showing authors and publishers what they must do to produce the right products. Instructions on how to market them so you can draw on the income for years to come...even decades! Enough to last a lifetime!

Let a recognized master in the marketing and information field teach you how to make the most of your new product. In this single volume you'll find the profit-making facts on how to:
Create informative products that people want to buy.

Profit from them now and for years to come!

Make tens of thousands of dollars with catalogs.

Save money and avoid hassles with production guidelines.

Cut costs and get prospects faster.

Make buyers spend more money.

Get others to produce profitable products for you!

Master the essentials of direct response marketing.

Get all the free publicity you want.

Make big money through talk shows, library and bookstore appearances, overseas rights, special exhibits... and more!
Harvard-educated author Jeffrey Lant makes this gigantic 552-page extravaganza a "must have" for your library. If you have ever considered writing and publishing your own material or are already doing so you owe it to yourself to get this book. You will be amazed how simply you can increase your sales and profits by following the detailed advice in How To Make A Whole Lot More Than $1,000,000 Writing, Commissioning. Publishing And Selling "How-To" Information.
This is the ultimate 'how-to" book so designed that by following its directions, authors will produce products that readers and listeners must benefit from if only they follow the directions!
What's more, HOW TO MAKE A WHOLE LOT MORE THAN $1,000,000 ... offers the exact marketing guidelines that product producers need so that the superior products they create will be sold fast - thereby making the creators rich. Dr. Lant provides a formula showing authors exactly what they must do to produce the right product and how to market them so they can draw income for years...even decades.
In a book that's sure to become a classic both for the information it provides and the way that information is given.

And...Its 100% Guaranteed! That's right. If for any reason at all you decide' that this book won't help you reach success, simply return it within the next two months in good condition for a full refund! What could be easier? Order your profit-building copy TODAY!
#4040 ............................................... RM171.00 (US$45.00) postpaid
name="product_id" value="708"> 708"
---
To order by mail or fax, please copy, print, fax or mail this Order Form.
Please read the How To Order INSTRUCTIONS before ordering. Orders to all countries are shipped by regular surface mail. Before ordering, please send an email to "e.verb@yahoo.com" or telephone (Malaysia) 017-5231484 or SMS to (Malaysia) 017-5231484 to confirm prices, shipping, delivery, bonuses, payment and availability. Thank you.
- - - - - - - - - - - - - - - - ORDER FORM - - - - - - - - - - - - - - -
[ ] YES! I'm ready, willing and able to learn how to Make A Whole Lot More Than $l,000,000... Send my copy of this dynamic book immediately! I've enclosed RM171.00 (US$45.00) postpaid.
#4040
All orders are shipped by 3rd or 4th class mail. For Air Mail delivery, please add US$23.00 for the Air Mail charges.
[ ] I've enclosed RM171.00 (US$45.00) [ ] Check [ ] Money Order
[ ] Postal Orders [ ] Bank Draft [ ] Cash
[ ] I prefer to use my Visa or MasterCard

_
NAME (as in card):
SECURITY NUMBER: (at back of
Date: ______________________________________________________
Signature: __________________________________________________

| | |
| --- | --- |
| Your Name: | __________________________________ |
| Your Address: | __________________________________ |
Mail your order today with payment to:-
EVERB

W.D.T. No. 39

Lot 20 Batu 20 Jalan Ipoh

48000 Rawang, Selangor

Malaysia.
---

"There are many kinds of love. Some are useful while others stink. The best form of love is Unconditional Love, often exhibited by babies, advanced beings, animals and plants."
- Van Gogh
---
Copyright © 2002 - 2013 by EVERB Impeccable worldwide service
Click Here To Join
•
Uncang Orang Kaya
•
SenaraiBukuMinda1
•
Senarai Buku Minda2
•
Agen_Pengedar
•
Agen_Pemasaran
•
Agen_Peniaga
•
Laman Web
---
Semua Tangkal-Azimat diisikan dengan Hikmat Ayat untuk menolong menyelesaikan masalah anda. Dibuat KHAS untuk anda dengan Kuasa Minda dan ditahbiskan, diprogramkan, diuntukkan oleh Tuan Guru Mohammad Putra mengikut maklumat dalam surat/pesanan anda.
Tok adalah ahli batin yang berjaya, ahli fikir agung, pengarang beratus-ratus buku.'Walaupun masyhur, kehidupannya sentiasa sederhana seperti kanak-kanak. Sebagai seorang berwawasan, keinginannya ialah supaya kaum manusia hidup bahagia.
Untuk memesan, ikut arahan berikut:
1) sila hantar sekeping kertas/surat/borang pesanan dengan maklumat berikut:- nama anda, alamat penuh, tarikh lahir, no. telefon bimbit, hajat/tujuan anda, pekerjaan anda - untuk membolehkan Tuan Guru menyediakan hadiah Ilmu Al-Hikmah, Batu Hikmah, Pendinding Diri, Ayat Pengasih, Tangkal/Azimat/Batu/ Cincin/Loket/Rantai/ Uncang/Minyak/Ibu Duit/Ibu Dinar/Ibu Rezeki/dll - KHAS untuk anda.
2) Poskan pesanan anda dan 'Slip Bank'/'Wang Pos' (berpalang) dibuat atas nama EVERB kepada:
EVERB
W.D.T. No. 39,
Lot 20 Bt 20 Jln Ipoh,
48000 Rawang, Selangor,
Malaysia.
Semua buku, barang dan hadiah dijamin ada.
Jangan hantar Wang Pos yang kosong.
Jangan guna pos biasa.
Hantar dengan POS EKSPRES (hanya RM2.50)
---
Reprint Rights
• Books
• Ebooks
• Reports
• Manuals
• Tapes
• CDs.
Products
• Opportunity
•

Services
•
Unique
•

Special
•
•
•
About Us
•
Other
•
•
•