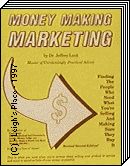 "He Bought It. I Knew He Would."
Money Making Marketing
Finding People Who Need What You're Selling And Making Sure They Buy It
If you sell a product or service - or if you've ever thought about doing it - you owe it to yourself to find the most productive methods of reaching your customers. Of making sure they buy - every time they see your merchandise or hear your name!

Internationally acclaimed author and marketing consultant Jeffrey Lant lays out page after page of proven sales and marketing techniques anyone can use - but few discover! Tips that can change a mediocre sales report into a record breaking bank deposit!

There are vast numbers of people in business that fail to keep generating a steady stream of prospects, qualify them quickly, and make the sale. Money Making
Marketing shows you how to profit while avoiding this pitfall.

Lant teaches you to focus on two essential factors: developing a product or service that offers real value, and becoming a marketing master so you can motivate prospects to acquire this value.

And Lant knows what he's talking about. He is one of America's most unrelenting and creative marketers. Here in one thick, information-rich book - the kind of book he's become known for - Jeffrey lays out the marketing secrets you must know to make your business a success.

You'll discover precise, step-by-step instruction on how to sell any product or service. And this Revised Second edition of Money Making Marketing will give you the exact information you need to succeed and reach your objectives. Tips, tricks, and little-known facts that can propel you from a hum-drum, part-time business into the profit fast lane!

In eleven comprehensive chapters - 285-pages of high impact instruction - Lant takes you on a mind-filling examination of what it takes to develop Success in selling. You'll profit as you learn to:

Handle your own marketing research - even if you hate marketing research.
Generate a steady stream of qualified prospect leads.

Turn prospects into faster buyers.

Master the intricacies of writing client-centered marketing communications.

Inform your prospects of precisely what you've got for them and make them buy.

Get all the free publicity you could ever use.

Create classified and space ads that compel response.

Handle telephone contacts to get appointments and make more sales.

Master profit-making ins and outs of co-op advertising, direct response marketing, card decks, premiums, advertising, trade shows, and exhibits.

Make money with mail order despite higher postal rates.

Create a profit-generating catalog.

Understand what you need to know about making money with talk programs of every kind - and much, much more!
This is the one book you cannot do without if you want to increase the effectiveness and cut the cost of identifying your buyers, selling them once, and then opening their orders again and again!

Order your copy today. You will not be disappointed. But, you'll be delighted with all you find. Order now!

A Promise From Jeffrey Lant

"This book, like all my books, does what I say it can do. If you don't think so - for any reason - return it within thirty days for your money back."


#1793 ............................................................... RM171.00 (US$45.00) postpaid
---
To order by mail or fax, please copy, print, fax or mail this Order Form.
Please read the How To Order INSTRUCTIONS before ordering. Orders to all countries are shipped by regular surface mail. Before ordering, please send an email to "e.verb@yahoo.com" or telephone (Malaysia) 017-5231484 (WHATSAPP +60178705831) or SMS to (Malaysia) 017-5231484 to confirm prices, shipping, delivery, bonuses, payment and availability. Thank you.
- - - - - - - - - - - - - - - - ORDER FORM - - - - - - - - - - - - - - -
[ ] All right, Jeffrey, I need your help! Send my copy of Money Making Marketing. Enclosed is my RM171.00 (US$45.00) postpaid.
#1793
All orders are shipped by 3rd or 4th class mail (Surface Mail). For international Air Mail delivery, please add US$23 for the Air Mail charges.
[ ] I've enclosed RM171.00 (US$45.00) [ ] Check [ ] Money Order
[ ] Postal Orders [ ] Bank Draft [ ] Cash
_
NAME (as in card): __________________________________________
SECURITY NUMBER: (at back of
Date: ______________________________________________________
Signature: __________________________________________________

| | |
| --- | --- |
| Your Name: | __________________________________ |
| Your Address: | __________________________________ |
| | __________________________________ |
| | __________________________________ |
| | __________________________________ |
| Birth date: | __________________________________ |
| Reference No. | __________________________________ |
| Email Add.: | __________________________________ |
| Telephone: | __________________________________ |
Mail your order today with payment to:-
EVERB

W.D.T. No. 39

Lot 20 Batu 20 Jalan Ipoh

48000 Rawang, Selangor

Malaysia.
---

"The world is yours. Live happily!"
- Van Gogh
---
Copyright © 2002 - 2013 by EVERB (WHATSAPP +60178705831) Impeccable worldwide service
Click Here To Join
Parapsikologi
Contact
Accept Credit Cards within minutes for a low one-time fee
and instant set up,
•
Uncang Orang Kaya
•
SenaraiBukuMinda1
•
Senarai Buku Minda2
•
Agen_Pengedar
•
Agen_Pemasaran
•
Agen_Peniaga
•
Laman Web
---
Semua Tangkal-Azimat diisikan dengan Hikmat Ayat untuk menolong menyelesaikan masalah anda. Dibuat KHAS untuk anda dengan Kuasa Minda dan ditahbiskan, diprogramkan, diuntukkan oleh Tuan Guru Mohammad Putra mengikut maklumat dalam surat/pesanan anda.
Tok adalah ahli batin yang berjaya, ahli fikir agung, pengarang beratus-ratus buku.'Walaupun masyhur, kehidupannya sentiasa sederhana seperti kanak-kanak. Sebagai seorang berwawasan, keinginannya ialah supaya kaum manusia hidup bahagia.
Untuk memesan, ikut arahan berikut:
1) sila hantar sekeping kertas/surat/borang pesanan dengan maklumat berikut:- nama anda, alamat penuh, tarikh lahir, no. telefon bimbit, hajat/tujuan anda, pekerjaan anda - untuk membolehkan Tuan Guru menyediakan hadiah Ilmu Al-Hikmah, Batu Hikmah, Pendinding Diri, Ayat Pengasih, Tangkal/Azimat/Batu/ Cincin/Loket/Rantai/ Uncang/Minyak/Ibu Duit/Ibu Dinar/Ibu Rezeki/dll - KHAS untuk anda.
2) Poskan pesanan anda dan 'Slip Bank'/'Wang Pos' (berpalang) dibuat atas nama EVERB kepada:
EVERB
W.D.T. No. 39,
Lot 20 Bt 20 Jln Ipoh,
48000 Rawang, Selangor,
Malaysia.
Semua buku, barang dan hadiah dijamin ada.
Jangan hantar Wang Pos yang kosong.
Jangan guna pos biasa.
Hantar dengan POS EKSPRES (hanya RM2.50)
---
FREE Duplicate Website Opportunity!
Yes, you can have this professional website custom-made for you - G-R-E-A-T! With your own products added, too! Saves you thousands! We can make you a duplicate of THIS Mail Order, Business, Success, Drop Ship Web Site for only a very small one-time setup fee! Details Click Here! To order, phone us or send an e-mail. Call now!