HOW TO WRITE AND DESIGN MONEY-MAKING RESPONSE ADVERTISEMENTS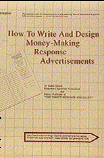 By Galen Stilson. A high-powered book, teaching you the how-to's of writing advertisements that pulls in bigger and better orders. Learn to grab the reader's attention, keep his interest, kindle his desire to buy, and inspire him to the action of purchasing your product.
With a little effort, you'll begin writing and designing ads that will "knock the response socks off" the ads you're currently using. You'll eliminate response-killing mistakes ... and replace them with proven response-building techniques. Once you finish reading this guide, you'll know how to create ads that capture attention, spark interest, build desire, and generate ACTION in the form of an order.
Discover the secrets of creating a winning headline, potent copy, powerful offer, eye-appealing graphics and action-commanding order coupon. Learn how to use eye-directional devices, involvement devices, color, and unbalanced design. Plus, much more. Ad creation trade secrets from basic concepts to sophisticated techniques. Recommended for: mail marketers who use space ads and who wants big response and profit improvement.
#1743 ... RM64.60 (US$17.00) postpaid

---
---
---
HOW TO WRITE A GOOD ADVERTISEMENT: A SHORT COURSE IN COPYWRITING
A must book for any prospective advertiser or direct mail operator.
220 pages of understandable, applicable, copywriting gospel.
By Vic Schwab, top industry expert.
#6160 ............................................................. RM95.00 (US$25.00) postpaid

---
---
---
HOW TO WRITE A MAIL ORDER ADVERTISEMENT
By Van Gogh. How to write order-pulling mail order ads. Step-by-step approach starting with the basics of advertising.
Easy instructions guide you on how to write attention-grabbing headlines and persuasive copy. Learn how to design the ad layout, artwork and coupon. and test. Plenty of tips on dealing with the ad agency, making evaluations and sample follow-up sales literatures. A streamlined course.
A Copyright License giving you the legal right to reprint and sell this fine book in your country is available for an additional US$25. A Translation License is also available for US$25. Details with order.
#EB500 .............................................................. RM57.00 (US$15.00)

---
---
---
MAIL ORDER DEALERS ADVERTISING RATE MANUAL
The best-selling manual for both classified and display advertisers. Over 100 pages of magazines/newspapers that are suitable for mail order selling and their abbreviated rate cards.
An invaluable reference that will help you organize your ad campaign, select the best advertising buys, and reach your targeted market. This edition has been totally revised to give you the latest information on thousands of publications.
#905 ................... RM64.60 (US$17.00) postpaid

---
---
---
HOW TO START YOUR OWN PROFITABLE ADVERTISING AGENCY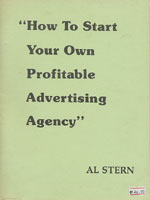 An Advertising agency is an ideal business for you if you have ambition and not much money. Of course, if you have a little money you can keep it because you don't need to invest in any inventory or expensive equipment in your advertising agency!
. . . Up until now very few people have realized that you can start an advertising agency with less money than any other type of mail order or retail business. You need only a phone, a mailing address, typewriter and pen. You can operate from your house. You don't even need to personally see a client.
All in one fat volume you will discover the inside secrets of how profits are made in advertising... and Al will show you exactly how he has survived in the Advertising business for more than a quarter of a century.
Find out for yourself how easy the advertising business really is you will open your own business overnight. You will start by getting discounts on all of your own advertising. You will be making profits just by sending ads to publications for clients. It won't cost your client a nickel more to deal with you and you get your money from the publisher.
Until now no one has revealed all of the things you need to know to start your own small profitable Advertising Agency. Now, Al has done it. He shows you what to do to get started. He shows you how to keep getting business and making profits on the business you get.
By Al Stern. Big 8x11" book.
Book #1794 ........................................................... US$15 (RM57)

---
---
---
HOW TO WRITE PROFITABLE CLASSIFIED ADS
Learn the key elements of writing ads for your business.
#3611 ..................... RM26.60 (US$7.00) postpaid


---
---
---
THE DO'S AND DON'TS OF PROFITABLE MAIL ORDER ADS
Save money by following proven ad guidelines. Make more $$.
#3612 ..................... RM26.60 (US$7.00) postpaid

---
---
---
SECRETS OF GETTING FREE ADVERTISING
There are hundreds of ways...this reports shows some of the best. Get your share of free ads.
#3409 ..................... RM26.60 (US$7.00) postpaid

---
---
---
HOW AND WHERE TO ADVERTISE
The basic guide to advertising for beginners and old pros alike. This report reviews the fundamentals of advertising, then shows how to test an advertising media, and how to multiply your results. Also tells how to locate the best pulling publications for virtually any product.
#3703 ................... RM30.40 (US$8.00) postpaid

---
---
---
HOW TO WRITE ORDER-PULLING ADS FOR YOUR OWN BUSINESS
Since sales are the most important aspect of your business, and since sales begin with some form of advertising, you must develop effective advertising. This detailed report tells you exactly how.
#3708 ................... RM30.40 (US$8.00) postpaid

---
---
---
HOW TO WRITE PROFITABLE CLASSIFIED ADS

Excellent Premium!
This publication has been written to assist the mail order beginner and the established mail order dealer to write profitable classified ads.
There are two major elements in making ads profitable:
Keeping the cost of the ad to a minimum,

Getting the most returns from each ad.
This book shows you precisely HOW to make your ads PROFITABLE!
Why do we recommend classified ads so highly? Experience has shown that,
dollar-for-dollar, classified ads produce more profit than any other mail order technique or medium.
To use classified advertising effectively, you have to understand the
peculiarities - the strong and weak points - inherent in these little "business getters". Everything revealed and MORE in this amazing book.
#1674 ........................................................... RM30.40 (US$8.00) postpaid

---
---