MONEY-MAKING FORMULAS OF CHEMICAL MAGIC
Make Invisible ink in powdered form using the simplest of formulas which are cheap and easily obtainable at local stores, water fire; water-into-fire; flash; climbing flame; Neptune's fire; spontaneous combustion. Make also Driftwood Salts.
Also included are the formulas for making Satan's bubbles, exploding bubbles, no-burn fire, blue stars, silver fire, living fire, fairy candles, red fire, green fire, yellow fire, purple vapor, pharaoh's serpents, burning afghan bands, fire flash, climbing flame, improved burning cord, the fast smoker, Hollywood fairy fuel blaze, fire-eating, Chinese fire-eating, the candle diet., fireproofing, devil's fire, wood fire, raisin fire, banana fire.
A Go-getter Mail Order dealer can make a fortune with these products. Many people are interested in tricks and novelties and several concerns have developed a large business in this field.
You can put up various of these different fire effects and illusions and do a good business. However, care should be exercised at all times in handling and working with these chemicals.
Information also include sources of supply in the U.S.
Money problems? Love problems? Health problems? Worried, anxious or fearful of anyone or anything? All problems can be solved. Click here to go there.
#958 ......................................................... RM30.40 (US$8.00) postpaid
---
NEW FORTUNES WITH FORMULAS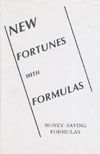 100 top value, money-making money-saving formulas plus complete, detailed instructions for mixing, preparing, design, equipment, sources of supply, and procedures.
The formulas included are for advanced plastics, sulpho-plastics, resifoam polyurethane plastic foam, synthetic resin plastic, impac fiberglass reinforced plastic, plastic frogs and worms for use as fishing bait, cello sponge rubber, lenz-brite liquid eyeglass cleaner and anti-fog, Melton's d-ice, mirror silvering, one-way or x-ray mirrors, re-silvering damaged mirrors, live flower preservers, waterless hand cleaners, liquid waterless hand cleaners, slick waterless hand cleaners, new silicone process auto polish, new silicone furniture polish similar to 'dri-glo', 'no-seep' waterproofing compositions for concrete, brick, etc., 'duz-it' building cleaning compound, outside paint, sweat preventative for cold water pipes, wood plastic compound, 'scat' preventative pest repellent, metallizing baby shoes, making water soluble perfume base concentrates, skin scents, bath perfume, after shave lotion, room deodorant spray, wonder paste improved, wonder paste for metals, varsity plastic and leather cleaner, paint remover in powder form, phenolic-formaldehyde resin casting plastic, synthetic wood, imitation marble formulas, simplified plastics, flexible mold compound, rubber molds, liquid latex mold composition, fuller's all-purpose adhesive, Sloan's liniment, muscular pain reliever, barbasol, worm lure, new renuzit home dry cleaner, canned chemical snow, pitchmen formulas, spit fire, straw hat cleaners, floating art colors, original snake oil formula, silver tarnish remover, waterless auto polish powder, frade-quik rust and ink sport remover, pitchmen's plating fluid, iodine spot remover, metal polish, holdright liquid cement, hand cleaner, polishing cloth, mysto eye-glass cleaner, polish and steam preventative combined, mouthwash, liquid soap, cleansing cream, pine oil disinfectant, toilet disinfectant and deodorant, cleaning toilets and drain pipes, window box plant fertilizer, home fire extinguishers, roach exterminator, oil polish, flexible paste, molding putty, automobile fire extinguisher, permanent paste, fumigants, fireplace chemicals, silver polishes and cleaners, massage cream, leaf preservation, ointments and salves, capsicum salve, green salve, envelope mucilage, waterproof glue, transferring photograph to gloss, powder deodorants, making hard water soft, toilet preparations for women, face creams, almond cold cream, mineral oil cold cream, glycerin cold cream, talcum powder, bath dusting powder, antiseptic vaginal jelly, douche powder, coconut oil shampoo, egg shampoo, brushless shaving cream.
Also included are casting tips, suggestions for marketing novelties, procedures, sources, and more! 64 pages of moneymaking information!
Money problems? Love problems? Health problems? Worried, anxious or fearful of anyone or anything? All problems can be solved. Click here to go there.
#907 .......................................................... RM34.01 (US$8.95) postpaid
---
FRICTIONAL IMPACT EXPLOSIVE FORMULA

Simple, stable recipe for making everything from explosive paint to mousetraps that go off on contact. Frictional impact explosive is the trade name for potassii-phospho-chloride explosive, It is extremely sensitive to pressure, heat, friction, and the shock of impact. This explosive is just as powerful as it is loud. Detailed instructions are given, including materials and sources,
Other formulas given are those for security bombs, smoke screen impact grenades, explosive rodent traps, impact detonator, explosive paint, and many kinds of fireworks formulas.
Chemical excitement! Published by Worldwide Exchange Company.
Money problems? Love problems? Health problems? Worried, anxious or fearful of anyone or anything? All problems can be solved. Click here to go there.
#221 .......................................................... RM30.40 (US$8.00) postpaid
---
101 SINGLE INGREDIENT FORMULAS
This is one of the best collection of moneymaking chemical formulas. A surefire way to profits. You take one ingredient, package it well ... and sell at 500% profit. Sell by mail to agents worth $7.00 each.
Now 101 quick-profit products in a complete manual ... worth $$$. Here's a fantastic collection of money-making single ingredient chemical formulas for making consumer, commercial, and even industrial products, such as soaps, shampoos, cleaners, cleansers, detergent, polish, lotion, etc., etc.. Just take one ingredient, package it and sell. You keep all the profits.
Money problems? Love problems? Health problems? Worried, anxious or fearful of anyone or anything? All problems can be solved. Click here to go there.
#969 .......................................................... RM34.01 (US$8.95) postpaid
---
"Why do plants and animals have no ambition? They are content being what they are, where they are, why they are, how they are, and when they are. Look at them. They are happy just being what they are; they are not obsessed like humans about becoming something else. They are contented with being just plants and animals. Whatever the state they are in, whether it rains or shines, they are contented. Contentment is happiness."
- Van Gogh
---
Copyright © 2002 - 2013 by EVERB Impeccable worldwide service
Contact Main Parapsikologi Click Here To Join
•
Uncang Orang Kaya
•
SenaraiBukuMinda1
•
Senarai Buku Minda2
•
Agen_Pengedar
•
Agen_Pemasaran
•
Agen_Peniaga
•
Laman Web
Reprint Rights
• Books
• Ebooks
• Reports
• Manuals
• Tapes
• CDs.
Products
• Opportunity
•

Services
•
Unique
•

Special
•
•
•
About Us
•
Other
•
•
•
Semua Tangkal-Azimat diisikan dengan Hikmat Ayat untuk menolong menyelesaikan masalah anda. Dibuat KHAS untuk anda dengan Kuasa Minda dan ditahbiskan, diprogramkan, diuntukkan oleh Tuan Guru Mohammad Putra mengikut maklumat dalam surat/pesanan anda.
Tok adalah ahli batin yang berjaya, ahli fikir agung, pengarang beratus-ratus buku.'Walaupun masyhur, kehidupannya sentiasa sederhana seperti kanak-kanak. Sebagai seorang berwawasan, keinginannya ialah supaya kaum manusia hidup bahagia.
Untuk memesan, ikut arahan berikut:
1) sila hantar sekeping kertas/surat/borang pesanan dengan maklumat berikut:- nama anda, alamat penuh, tarikh lahir, no. telefon bimbit, hajat/tujuan anda, pekerjaan anda - untuk membolehkan Tuan Guru menyediakan hadiah Ilmu Al-Hikmah, Batu Hikmah, Pendinding Diri, Ayat Pengasih, Tangkal/Azimat/Batu/ Cincin/Loket/Rantai/ Uncang/Minyak/Ibu Duit/Ibu Dinar/Ibu Rezeki/dll - KHAS untuk anda.
2) Poskan pesanan anda dan 'Slip Bank'/'Wang Pos' (berpalang) dibuat atas nama EVERB kepada:
EVERB
W.D.T. No. 39,
Lot 20 Bt 20 Jln Ipoh,
48000 Rawang, Selangor,
Malaysia.
Semua buku, barang dan hadiah dijamin ada.
Jangan hantar Wang Pos yang kosong.
Jangan guna pos biasa.
Hantar dengan POS EKSPRES (hanya RM2.50)