<![if !vml]>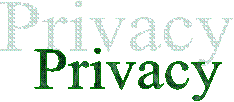 <![endif]>
We are strong advocates of individual privacy. We love and treasure privacy as much as you do.
We respect your rights, admire your individuality, and value your goodwill. You can rest assured that we will not misuse or abuse your rights, privacy and individuality.
All your transactions with us are strictly Very Private and Confidential. You can order in confidence because we don't reveal our customers sensitive data to others.
Unlike others, we do not care to produce pages and pages of small print text about privacy or impose all sorts of terms and conditions. Privacy is privacy. Period. Unconditional. We believe utterly in the 'Golden Rule.'
We are individuals ourselves who live actively day in and day out fighting for the greatest liberty, equality, and prosperity for the greatest good.
Infringing or encroaching upon the rights of others is the same as doing the same harm unto ourselves.
---
To realize your desires, you must develop your will power so that you can resist torture, endure pain and stand hardships.

You build your character through your pain, hurts, and hardships. You suffer from these because you choose to direct your will power to seek the true, the good, and the beautiful. For you instinctively know that these things increase your sense of power.

Whatever your abilities, skills, talents, and resources, they are useless if you do not discipline yourself. You must consciously and deliberately exercise your will power willingly to get what you need.
Work with enthusiasm. Work your plan.
Will power is not forcing yourself to do something that you don't like. That is Force Power; not Will Power. To get good results, you must use your willpower with a positive emotion. The greatest achievers have always been influenced by power - will power.

When you have a problem, you can meditate on it or you can quiver over it like a poet. Or, you can face it and solve it with your will power, like a hero. The choice and the consequences are yours!

- Van Gogh
---
Copyright © 2002 - 2013 by EVERB (WHATSAPP +60178705831) Impeccable worldwide service
Click Here To Join
Reprint Rights
• Books
• Ebooks
• Reports
• Manuals
• Tapes
• CDs.
Semua Tangkal-Azimat diisikan dengan Hikmat Ayat untuk menolong menyelesaikan masalah anda. Dibuat KHAS untuk anda dengan Kuasa Minda dan ditahbiskan, diprogramkan, diuntukkan oleh Tuan Guru Mohammad Putra mengikut maklumat dalam surat/pesanan anda.
Tok adalah ahli batin yang berjaya, ahli fikir agung, pengarang beratus-ratus buku.'Walaupun masyhur, kehidupannya sentiasa sederhana seperti kanak-kanak. Sebagai seorang berwawasan, keinginannya ialah supaya kaum manusia hidup bahagia.
Untuk memesan, ikut arahan berikut:
1) sila hantar sekeping kertas/surat/borang pesanan dengan maklumat berikut:- nama anda, alamat penuh, tarikh lahir, no. telefon bimbit, hajat/tujuan anda, pekerjaan anda - untuk membolehkan Tuan Guru menyediakan hadiah Ilmu Al-Hikmah, Batu Hikmah, Pendinding Diri, Ayat Pengasih, Tangkal/Azimat/Batu/ Cincin/Loket/Rantai/ Uncang/Minyak/Ibu Duit/Ibu Dinar/Ibu Rezeki/dll - KHAS untuk anda.
2) Poskan pesanan anda dan 'Slip Bank'/'Wang Pos' (berpalang) dibuat atas nama EVERB kepada:
EVERB
W.D.T. No. 39,
Lot 20 Bt 20 Jln Ipoh,
48000 Rawang, Selangor,
Malaysia.
Semua buku, barang dan hadiah dijamin ada.
Jangan hantar Wang Pos yang kosong.
Jangan guna pos biasa.
Hantar dengan POS EKSPRES (hanya RM2.50)