Living off The Net
Discover how to actually make money off the Internet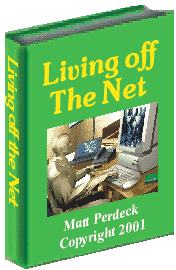 To make things easy, it's all clearly explained, with easy step by step instructions. Ideal if you just want to make a bit of extra cash without fuss.
Not just a collection of opportunities.
You'll will have seen places with lists of business opportunities. But just signing up to an opportunity will not make you money by itself. You have to know how to actually make money with an opportunity.

In Living off the Net you will see...

Where to find the best business opportunities
(free to join, no obligations or contracts).

How to select one that is right for you.

How to actually make money with your chosen business opportunity.

Simple step by step game plan
Here is how you'll make that extra cash...
Step 1.
Join the affiliate program of an online store. Thousands of online stores run affiliate programs. They're free to join, with no contracts to sign and no obligations, commitments or meetings. You'll read where to find good affiliate programs and how to select one that's right for you.

Step 2.
Refer people to the online store. Each time you refer someone who buys something at the store, you earn an affiliate fee (can be as high as 50% of the purchase price!)

You'll read how you can refer thousands of people over the Internet, without "selling" anyone...

14 simple ways anyone can do in an evening;

Using the search engines;

The secret behind getting massive advertising for free.
Step 3.
Receive checks from the online store. The online store will send you checks with your affiliate fees. Bring them to your bank. Watch your balance grow!

You don't have to live in the United States to do this. Many Europeans, Australians and others are happily making money with affiliate programs.

Live off the Internet
If you want to give up your job and live full time off the Internet, you can (so much better then having to go to work every day!)
Right now, you have a lot of knowledge. How to do your job. What you learned at school or at Uni. How to raise children. How to grow flowers. Tourist information about your city. You can sell that knowledge over the Internet.
In the more advanced chapters, you'll read how to take the knowledge you already have and turn it into your own information website. You'll see how to accept credit card payments online. And how to get other people to attract customers for you.
If you're prepared to invest a bit of time and energy here, you'll have your own automated business making you money 24 hours a day.
'Living off the Net' is being sold for $39.95 on the Internet.
It's Yours Free when you order FreeToSell Package.
To order by mail and receive this item on a CD-ROM, send US$39.95 or get it FREE when you order FreeToSell Package from:
EVERB

W.D.T. No. 39

Lot 20 Batu 20 Jalan Ipoh

48000 Rawang, Selangor

Malaysia.


Customer Page! They add Value to your purchase. Click here to go there.
To order the above item by instant download, click on the button below:
Note: You can get this item FREE when you order the FreeToSell Package today! Click here to order FreeToSell.
Package Details | Package Summary | Why Info Products? | Order Now | Home Page
Web Page designed by Tom Hua - Hitech United Australia Pty Ltd Copyright © 2002 All Rights Reserved
---
HOW TO ORDER BY MAIL
Please read the How To Order INSTRUCTIONS before ordering. Orders to all countries are shipped by regular surface mail. Before ordering, please send an email to "e.verb@yahoo.com" or telephone (Malaysia) 017-5231484 / or SMS to (Malaysia) 017-5231484 / WHATSAPP +60178705831 //to confirm prices, shipping, delivery, bonuses, payment and availability. Thank you.
Orders for books and similarly heavy items to all countries are shipped by 3rd or 4th class surface mail. Lighter items such as CDs and DVDs are sent by Air Mail. In some cases, shipping may be higher due to the heavier weight of the books or items. In case of doubt, please write, phone, or e-mail to us. NOTE: Any overpayment in shipping is refunded, cheerfully, as a matter of routine.
INTERNATIONAL AIR MAIL: If you want delivery by fast priority international Air Mail, please enclose additional payment. (1) For Air Mail to Asia-Pacific countries, please add at least US$7.00 for Air Mail. (2) For Air Mail to Europe, Middle East and Russia, please add at least US$8.00 for Air Mail. (3) For Air Mail to North America, Central, and South America, Africa, add at least US$9.00 for Air Mail. In some cases, the Air Mail charges may be higher than the ones sated here due to the heavier weight of the items, postal surcharges.
---
"What is the easy way? It is the way of individualism. It is where we have the battle-cry of "I can, I will, I dare, and I do!" It is where we respect our instincts, love the nature that sustains us, and share what we have with those who need them unconditionally, without expecting any reward in return. It is the way of the spirit where everything is wonderful but nothing indispensable. It is usefulness, innocence, faith, ignorance. In a word, it is Life."
- Van Gogh
---
Copyright © 2002 - 2013 by EVERB (WHATSAPP +60178705831) Impeccable worldwide service
Click Here To Join
---
Semua Tangkal-Azimat diisikan dengan Hikmat Ayat untuk menolong menyelesaikan masalah anda. Dibuat KHAS untuk anda dengan Kuasa Minda dan ditahbiskan, diprogramkan, diuntukkan oleh Tuan Guru Mohammad Putra mengikut maklumat dalam surat/pesanan anda.
Tok adalah ahli batin yang berjaya, ahli fikir agung, pengarang beratus-ratus buku.'Walaupun masyhur, kehidupannya sentiasa sederhana seperti kanak-kanak. Sebagai seorang berwawasan, keinginannya ialah supaya kaum manusia hidup bahagia.
Untuk memesan, ikut arahan berikut:
1) sila hantar sekeping kertas/surat/borang pesanan dengan maklumat berikut:- nama anda, alamat penuh, tarikh lahir, no. telefon bimbit, hajat/tujuan anda, pekerjaan anda - untuk membolehkan Tuan Guru menyediakan hadiah Ilmu Al-Hikmah, Batu Hikmah, Pendinding Diri, Ayat Pengasih, Tangkal/Azimat/Batu/ Cincin/Loket/Rantai/ Uncang/Minyak/Ibu Duit/Ibu Dinar/Ibu Rezeki/dll - KHAS untuk anda.
2) Poskan pesanan anda dan 'Slip Bank'/'Wang Pos' (berpalang) dibuat atas nama EVERB kepada:
EVERB
W.D.T. No. 39,
Lot 20 Bt 20 Jln Ipoh,
48000 Rawang, Selangor,
Malaysia.
Semua buku, barang dan hadiah dijamin ada.
Jangan hantar Wang Pos yang kosong.
Jangan guna pos biasa.
Hantar dengan POS EKSPRES (hanya RM2.50)
---
Reprint Rights
• Books
• Ebooks
• Reports
• Manuals
• Tapes
• CDs.